Fish Kebabs with Chermoula Sauce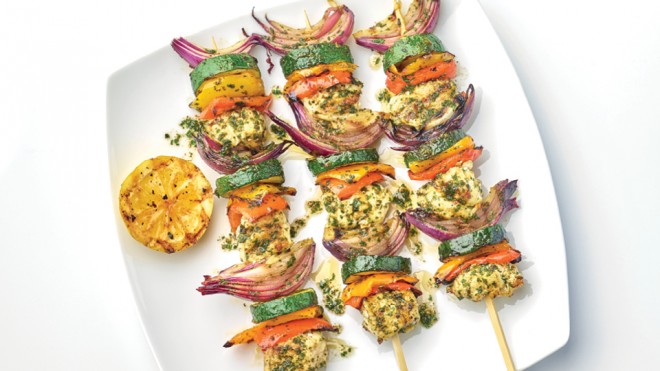 4 servings
1 Hour 25 Minutes to prepare
Ingredients
400g monkfish, or other firm white fish, cut into 4cm cubes
1 red onion, cut into wedges
2 peppers, red, yellow or orange, halved, deseeded and cut into wedges
1 large courgette, sliced
2 garlic cloves
Zest of 1 lemon
1 large bunch fresh coriander
1 large bunch fresh flat leaf parsley
1 small bunch fresh mint
1tbsp ground cumin
1tsp ground coriander
1tbsp smoked paprika
1tsp cayenne pepper
3tbsp olive oil
Instructions
1 Place all of the spices, fresh herbs, garlic, lemon zest and olive oil in to a food processor and pulse until you have a coarse paste.
2 Place the fish in a non-metallic dish and spoon over half of the paste. Leave to marinate in the fridge for at least 1 hour.
3 Thread the fish, red onion, pepper and courgette onto the pre soaked skewers. Heat a griddle pan or barbecue and cook the kebabs for 3 minutes. Brush with the remaining marinade then turn and cook for a further 4 minutes until golden and the fish is cooked through.
4 To finish, halve the lemon you used for the zest and place on the griddle pan then cut side down, and cook until golden. Serve the kebabs with a squeeze of the griddled lemon and an extra spoonful of Chermoula sauce.
CHEF'S TIP If using wooden barbecue skewers for the kebabs make sure you soak them in water beforehand for at least 20 minutes as this will stop them from burning when cooking.