Loaded Veggie Sweet Potatoes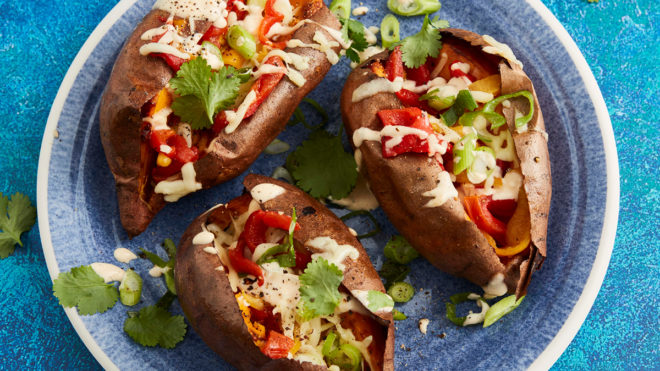 4 servings
10 mins to prepare
Ingredients
4 sweet potatoes, scrubbed clean
1 tbsp olive oil
1/2 tsp salt
For the topping
50g mayonnaise
1 tbsp Tabasco
100g flame roasted red and yellow peppers, sliced
100g Emmental cheese, grated
4 spring onions, sliced
Coriander Leaves
Instructions
METHOD
1 Pre-heat the oven to 200°C (fan) / 220°C / 425°F / gas mark 7.
2 Place the sweet potatoes onto a baking tray and rub with the oil and scatter
over the salt.
3 Bake the sweet potatoes for 45 minutes in the pre-heated oven or until soft and cooked through.
4 Whilst the potatoes are baking, mix the mayonnaise, Tabasco and a tablespoon of boiling water in a small bowl. Set to one side.
5 To serve, slice each sweet potato lengthways, place in an ovenproof serving dish, scatter over the sliced peppers and grated cheese. Place under a hot grill and cook for 5 minutes or until the cheese has melted.
6 Scatter over the spring onions, drizzle with the Tabasco mayonnaise and garnish with coriander leaves.