Salmon and Sweet Potato Popcorn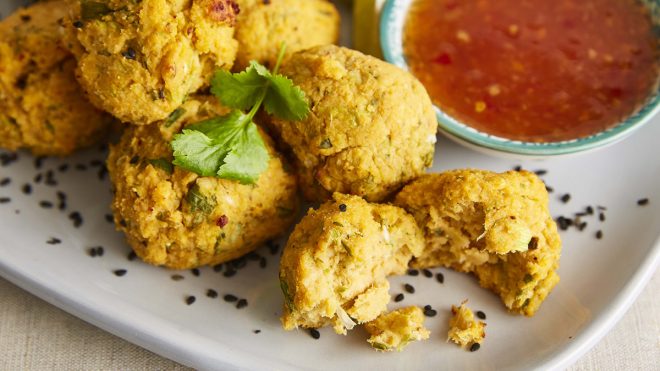 4 servings
55 minutes to prepare
Ingredients
1 sweet potato
A drizzle of olive oil
4 spring onions, sliced
10g coriander
1 lime, zest and juice
100g panko breadcrumbs
200g salmon fillets, skin removed
1/4 tsp salt
1/4 tsp pepper
Instructions
Try a delicious Spring salmon recipe, made with just 8 simple ingredients.
Method
Pre-heat the oven to 180°C (fan)/400°F/gas mark 6.
Slice the sweet potato in half lengthways, drizzle with a little olive oil and place onto a baking tray. Bake in a pre-heated oven for 20 minutes or until soft. Set to one side to cool.
Place the spring onions and coriander into a food processor and blitz to combine.
Add the lime zest and juice, breadcrumbs, salmon filets, salt and pepper. Scoop the flesh from the cooked sweet potato and add to the food processor. Blitz until just combined, do not over mix.
Divide the mix into 16 evenly sized balls and chill in the fridge for 10 minutes.
Place the chilled salmon meatballs onto a baking tray lined with baking paper and bake in a pre-heated oven for 15-20 minutes until piping hot.
Chef's Tip
Swap the salmon for fresh tuna in this recipe to ring the changes. This recipe makes a great canape, divide the mix into 32 balls and bake for 8-10 minutes. Serve on cocktails sticks with a sweet chilli dipping sauce.
Serving Suggestion
Scatter with nigella seeds, fresh coriander and serve with a dipping sauce.