Smoked Salmon, Dill and Caper Fishcakes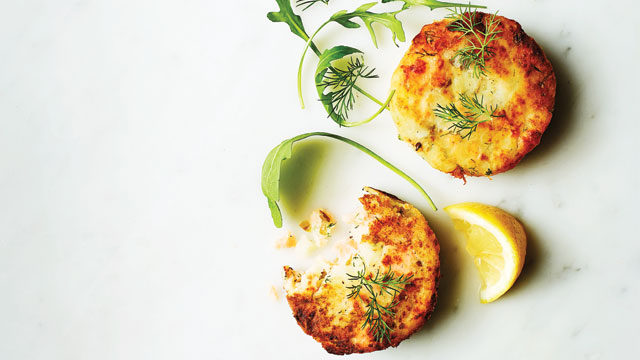 8 servings
21 minutes to prepare
Ingredients
450g cooked mashed potato
150g smoked salmon, roughly chopped
3 tbsp fresh dill, finely chopped
Grated zest of 1 small lemon
2 tbsp capers, finely chopped
2 tbsp plain flour
1 tbsp olive oil
To Serve a handful of rocket leaves. a handful of baby spinach leaves, 2 tbsp half fat crème fraîche & lemon wedges
Instructions
Preparation time 15 minutes
Cooking time 6 minutes
1. Put the mashed potato in a bowl. Add the smoked salmon, dill, lemon zest and capers and mix well.
2. Shape into 8 medium-sized fishcakes and dust each one with a little plain flour.
3. Heat the oil in a frying pan over a medium heat and cook the fishcakes for 3 minutes each side until golden.
4. Serve with the rocket and spinach and a little crème fraîche, with wedges of lemon on the side.