Lapsang Souchong Poached Salmon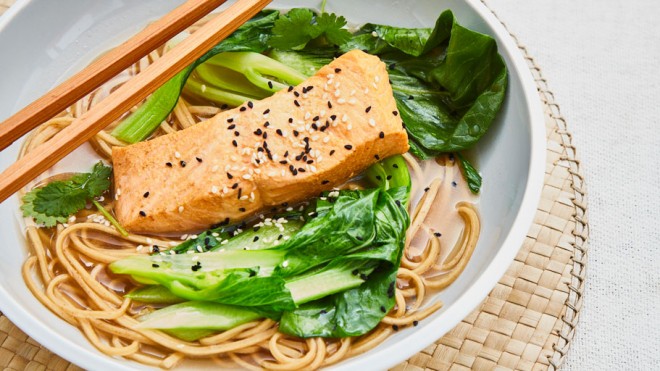 4 servings
35 minutes to prepare
Ingredients
4tbsp Lapsang Souchong Tea Leaves
2tbsp brown sugar
1/2 lemon, sliced
4 salmon fillets, skin removed approximately 150g each
To serve
300g noodles
2 heads oak-choi, sliced in half lengthways
1tbsp sesame seeds
1tbsp nigella seeds
Coriander leaves
Instructions
Tea-rrific for a healthy tea with a twist!
Bring 1.5 litres of water to the boil in a large saucepan. Add the tea leaves, sugar and lemon. Boil for 3 minutes. Strain to remove the tea leaves and lemon, discard and return the liquid to the pan.
Reduce the liquid to a gentle simmer, add the salmon fillets and poach for 15 minutes or until cooked through.
Once cooked, remove the salmon and set to one side to keep warm.
Bring the poaching liquid back to the boil and add the noodles. Cook as per pack instructions. With 3 minutes remaining, add the pak choi.
To serve, reserve 4 tbspoons of cooking liquid. Drain the noodles and pak choi. Place in a serving bowl and top with the poached salmon. Spoon a tablespoon of cooking liquid over each dish and garnish with the seeds and coriander leaves. Season and serve.
Chefs Tip 
This is a great way of cooking salmon. Poach as per the recipe and serve cold in salads in the summer months.