Herby Salmon & Cous Cous Salad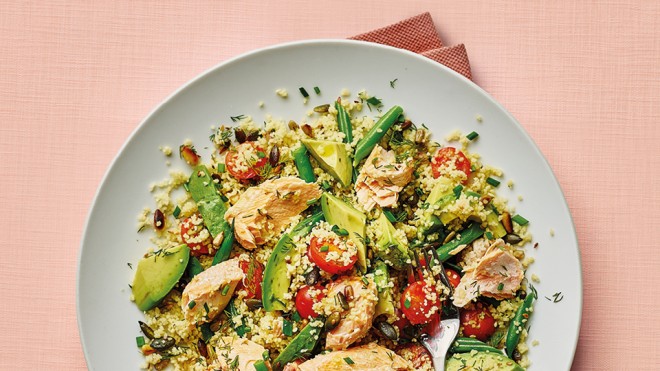 4 servings
Cook 5 mins, 15 mins to prepare
Ingredients
200g cous cous
400ml hot vegetable stock
150g fine green beans, trimmed and halved
60g mixed seeds, such as pumpkin, sunflower, sesame, toasted until golden
1 large avacado, halved, stone removed and chopped
150g cherry tomatoes, halved
2tbsp chopped fresh dill
2tbsp chopped fresh chives
1 lemon, juice only
2tbsp extra virgin olive oil
300g leftover salmon, flaked into large pieces
Instructions
1 Place the cous cous in a large bowl and pour over the hot vegetable stock. Cover the bowl with cling film and leave to stand for 10 minutes until the cous cous has absorbed all the liquid.
2 Meanwhile place a small saucepan of water on to boil and when bubbling add the green beans and cook for 5 minutes until tender. Drain well and run under cold water immediately to refresh. Drain and set aside.
3 Remove the cling film from the bowl, gently break up and separate the cous cous grains using a fork. Stir in the toasted seeds and drained green beans.
4 Carefully fold in the avocado, tomatoes and herbs then dress with the lemon juice, oil and a pinch of salt and ground black pepper.
5 When everything is mixed together, gently fold in the flaked salmon. Serve immediately.
LOVE YOUR LEFTOVERS
If you are going to store leftover roast to make this recipe, cool it as quickly as possible (ideally within 90 minutes) cover it and place into the fridge. Always use your leftovers within two days of storage. Ensure you cook this recipe until it's steaming hot throughout and importantly, never reheat leftovers more than once.