Oriental Style Salmon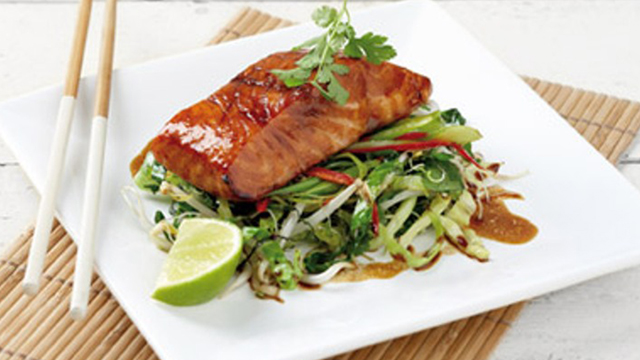 4 servings
40 minutes to prepare
Ingredients
4 skinless salmon fillets
2tbsp soy sauce
1tbsp olive oil
1tbsp honey
Juice of one lime
1 red chilli, thinly sliced
6 spring onions, shredded
Instructions
Pre-heat the oven to 200°C / gas mark 5.
Scatter the spring onions and chilli over the base of a small oven-proof dish and place the salmon on top.
Mix the soy sauce, honey, lime juice and olive oil in a small bowl, pour over the salmon, cover and bake for 10-12 minutes.
Meanwhile in a wok heat the olive oil and sesame oil until hot, add the cabbage and quickly fry for 2-3 minutes before adding the bean sprouts and alfalfa. Continue to cook for a further 2 minutes, finish with coriander and season with salt and milled pepper.
Serve alongside the salmon for a great healthy dinner.
Serving note – this recipe will work well with any meaty fish.