Sea Bass Filled with Fennel, Chilli and Lemon with Summer Vegetables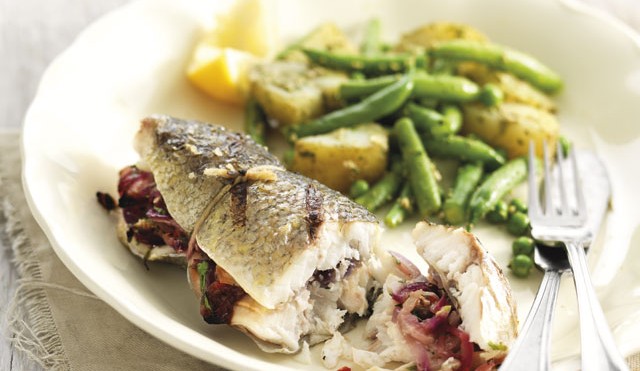 2 servings
50 minutes to prepare
Ingredients
FOR THE SEA BASS
4 sea bass fillets
1 tbsp olive oil
1/2 fennel bulb, very thinly sliced
1 small red onion, thinly sliced
1/2 red chilli, de-seeded and finely chopped
1 tsp chopped parsley
Juice and zest ½ lemon
Salt and milled pepper
FOR THE SUMMER VEGETABLES
10g sunflower seeds
10g pumpkin seeds
1 garlic clove, peeled
10g fresh basil
50ml extra virgin olive oil
Juice of ½ lemon
1 tbsp water
10g Parmesan cheese, finely grated
200g new potatoes, cooked
200g green beans
100g fresh peas
Instructions
HOW TO DO IT
FOR THE SEA BASS
Take a large frying pan and gently cook the fennel and red onion until they begin to soften. Tip into a bowl and cool completely. Once cold, mix in the chilli, parsley, lemon juice and zest, season with salt and milled pepper.
Now place two of the sea bass fillets skin side down onto a board, season with a little salt. Cover each of the fillets with the fennel mixture. Season the flesh side of the remaining two sea bass fillets and place on top, skin side up. Tie the sea bass together using string so they stay together whilst cooking. These can be kept in the fridge until you're ready to cook.
Pre-heat your BBQ or grill. Rub a little olive oil over the skin of the fillets and season with a little salt. Cook for 12-15 minutes turning half way through.
FOR THE SUMMER VEGETABLES
Firstly make the pesto (once made this can be stored in the fridge for upto a week). Place the sunflower and pumpkin seeds into a frying pan and cook over a medium heat until toasted, remove from pan and cool completely. Once cooled transfer to a mini food processor with the garlic, basil, extra virgin olive oil, lemon juice and 1 tbsp of water and blend until smooth. Tip into a bowl, stir in the Parmesan cheese and season to taste.
Slice the cooked potatoes and pop into a serving bowl. Cook the green beans for 2 minutes in boiling salted water then add the peas. Cook for a further minute, drain and add to the potatoes. Add 2-3 spoonfuls of the pesto and mix well.
For ease you can use store bought pesto as an alternative, draining off any excess oil so the vegetables don't get too greasy.