Asian Style Grilled Fish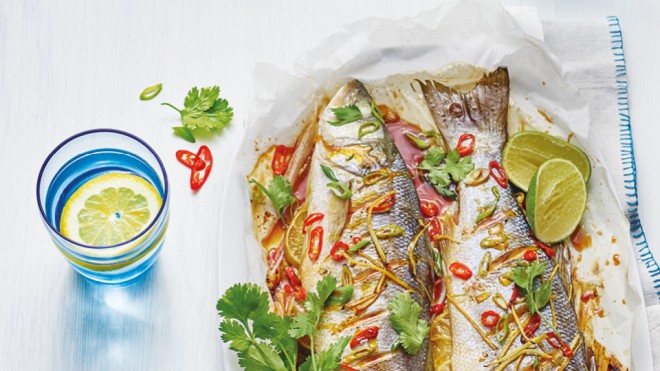 4 servings
15 minutes to prepare
Ingredients
4x600g whole fish, gutted scaled and scored (we suggest sea bass)
2 limes
2tbsp Chinese rice wine
4tbsp light soy sauce
2 tbsp runny honey
5cm piece ginger, shredded as finely as possible or grated
1 bunch spring onions, finely sliced
1 medium bunch coriander, roughly chopped
tinfoil
baking paper
Instructions
1 Preheat the barbecue until the coals have turned an ash grey colour to give a medium temperature. Place 2 large sheets of foil on to a surface then lay similar sized sheets of baking paper on top.
2 Lay two prepared fish onto each sheet of paper. Slice one of the limes into thin circles and place a few pieces inside each fish.
3 Mix the rice wine, soy sauce and honey in a small bowl and spread over the fish. Then scatter the ginger, spring onions and chilli over the top.
4 Place the fish onto the foil, then put on the barbecue. Close the lid or loosely fold the foil to form a parcel, and cook for 10 – 15 minutes. The skin should be slightly crispy and the flesh firm yet succulent.
5 To serve, coat the fish in the cooking juices, scatter the coriander over the top and cut the remaining lime into wedges for squeezing over the fish.
If you have to move your barbecue indoors simply preheat the oven to 180˚C / fan160˚C / gas mark 4, prepare the fish as above and roast for 10 – 15 minutes.
You can also use 4 x fish fillets instead of whole fish if desired (we recommend
salmon or monkfish).
The optimum time and temperature varies by individual ovens – these are guidelines only. Please ensure all cooked recipes are served piping hot. Keep raw meat separate from cooked food. Use separate kitchen utensils and surfaces for raw and cooked foods, or wash thoroughly in between use. Wash hands after handling raw meat. Some products may only be available in our larger stores. All content © Booths 2015.