Blood Orange Seared Sea Bass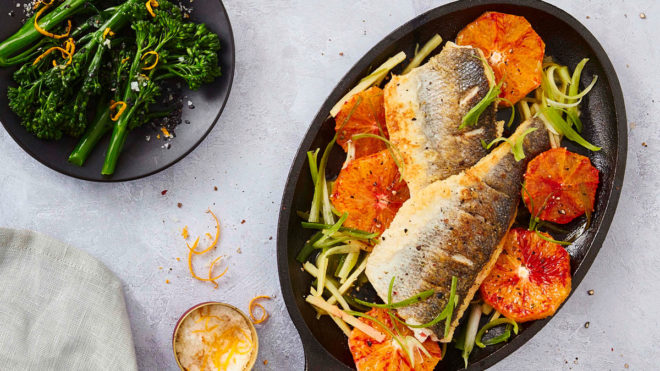 4 servings
20 minutes to prepare
Ingredients
4 blood oranges
4 sea bass
A drizzle of olive oil
8 spring onions, sliced into matchsticks
50g fresh ginger, peeled and finely sliced inot matchsticks
1tsp honey
Salt and pepper
To Serve
150g tenderstem broccoli
1tbsp sea salt
1 blood orange, zest only
1tsp nigella seeds
Instructions
A zesty way to enjoy sea bass fillets, with a moreish blood orange sauce. You can swap the sea bass for mackerel fillets if you wish, as the citrus complements it well as it cuts through the oily fish.
Peel 3 blood oranges and slice into 1 cm rounds, then juice the remaining blood orange. Lightly score the skin of each sea bass fillet. Season with salt and pepper.
Heat a non-stick frying pan over a high heat. Add a drizzle of olive oil. Add the sea bass fillets skin side down and cook for 3 minutes or until the skin is crispy. Turn each fillet over and cook for a further minute, before removing from the pan.
Add a drizzle of olive oil to the pan, then add the spring onion and ginger, cook over a medium-high heat for 1 minute.
Add the sliced blood oranges, juice and honey. Bring to the boil and cook for 2 minutes. Set to one side to keep warm.
Bring a pan of salted water to the boil. Add the tenderstem broccoli and cook for 5 minutes or until tender, then drain. Then mix the sea salt and blood orange zest in a bowl.
To serve, divide the cooked ingredients between 4 plates and top with the sea bass fillets. Spoon over the sauce and sprinkle the tenderstem with the blood orange salt mixture. Garnish with Nigella seeds.