Posh Peppered Mackerel & Poached Egg On Toast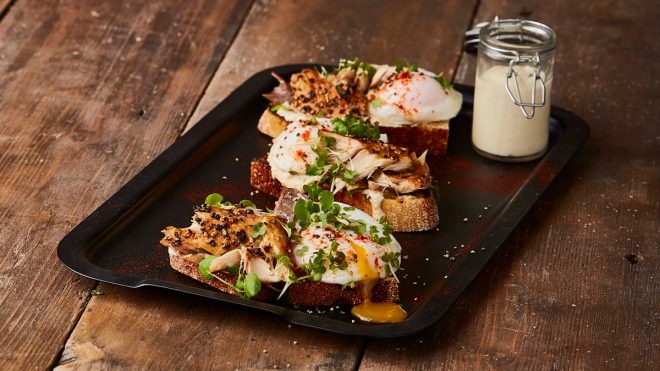 4 servings
20 minutes to prepare
Ingredients
50ml white vinegar
4 eggs
4 slices sourdough
2tbsp oil
1tbsp horseradish
120g sour cream
Sea salt & cracked black pepper
400g cooked peppered mackerel fillets
Mustard cress to garnish
Mixed salad to serve
Instructions
This mackerel dish is ideal for a really light, simple tea, a delicious brunch or even as a starter.
Drizzle the sourdough with olive oil and place onto a hot griddle pan pan to toast.
Place a pan of water on the hob and bring to the boil, then turn down to a simmer and add the white wine vinegar. Carefully crack the eggs into the water and leave to poach for approximately 5 minutes.
In the meantime mix the sour cream and horseradish together and spread on the sourdough.
Place the mackerel under a hot grill to warm through. Remove the skin from the mackerel and break up into smallish pieces then place on the bruschetta.
Remove the eggs from the water and carefully dry on kitchen paper, then place on top of the fish. Season and garnish with mustard cress to serve.
The optimum time and temperature varies by individual ovens – these are guidelines only. Please ensure all cooked recipes are served piping hot. Keep raw meat separate from cooked food. Use separate kitchen utensils and surfaces for raw and cooked foods, or wash thoroughly in between use. Wash hands after handling raw meat. Some products may only be available in our larger stores. All content © Booths 2017.