Grilled Mackerel with Fennel, Watercress and Cucumber Salad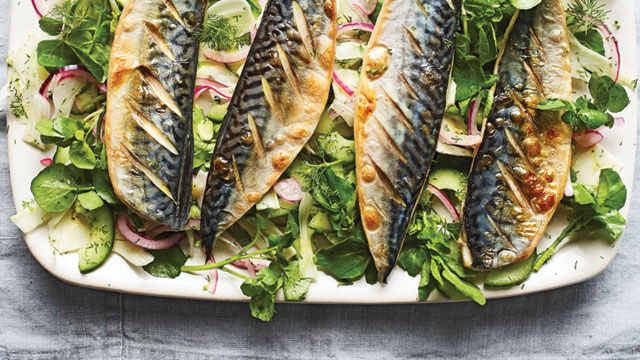 4 servings
26 minutes to prepare
Ingredients
1/2 small red onion, thinly sliced
Juice of 1 lemon
1/2 cucumber, halved lengthways, deseeded and finely sliced
1 fennel bulb, quartered, cored and finely sliced
1 tbsp runny honey
1/2 tsp Dijon mustard
1 tbsp extra-virgin olive oil
15g fresh dill, chopped
4 large, fresh mackerel fillets, about 150g each
1 tsp sunflower oil
Freshly ground black pepper
50g watercress
To serve Boiled new potatoes
Instructions
For this recipe, try to get the fennel as wafer-thin as possible either by using a very sharp knife or a mandoline, if you have one.
Preparation time 20 minutes
Cooking time about 6 minutes
1. Put the red onion in a small bowl and pour over half the lemon juice. Leave to stand for about 10 minutes.
2. Put the cucumber and fennel in a large bowl. Whisk together honey, mustard, extra-virgin olive oil, dill and remaining lemon juice and pour over the salad. Toss together well, cover and set aside.
3. Preheat the grill to high.
4. Brush the fish with the sunflower oil, season with salt and pepper and put, skin side up, on a grill pan. Cook for 2–3 minutes each side or until cooked through.
5. Toss the watercress into the cucumber and fennel salad and add the red onion. Arrange the salad on a serving platter and place the mackerel fillets on top.
6. Serve immediately with new potatoes.