Brazilian Seafood Stew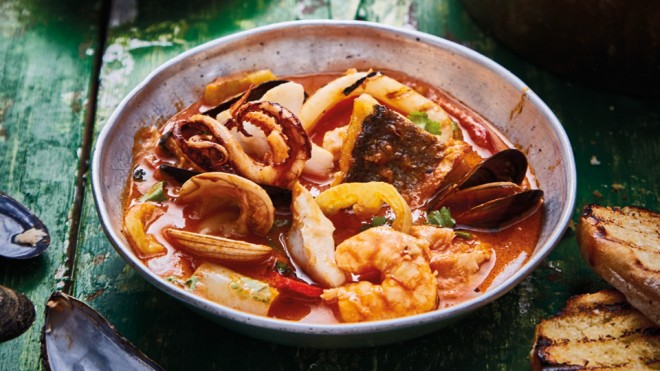 6 servings
15 Minutes to prepare
Ingredients
1 squid, sliced into rings
500g peeled tiger prawns
500g seabass fillets, cut into 2 inch pieces
250g clams
250g mussels
100ml fresh lime juice
2 large white peppers, roughly chopped
2 large pointed red peppers, roughly chopped
2 onions, finely chopped
4 cloves garlic, finely chopped
1 scotch bonnet chilli, finely chopped
1 1 bunch coriander, chopped
400g tin coconut milk
2 400g tins chopped tomatoes
50ml olive oil
2tsp cumin
2tsp paprika
Pinch salt and black pepper
Instructions
1 Combine the lime juice, cumin, paprika and a little salt and pepper in a mixing bowl. Add the prawns, squid rings and seabass and marinade for 30 minutes.
2 In a large heavy based saucepan over a moderate-high heat, fry the onions, garlic, chilli and peppers in the olive oil until soft, add the clams and mussels, then fry for a further 5 minutes.
3 Add the marinated fish, chopped tomatoes and coconut milk, then bring to a gentle simmer for 10 minutes.
4 Season with salt and pepper, and add the chopped coriander just before serving.