Luxury Fish Pie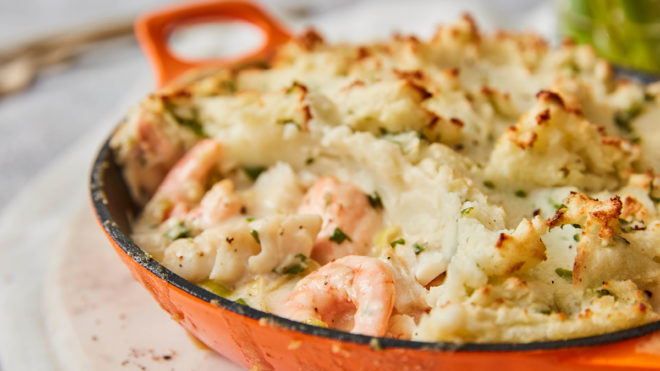 4 servings
1 hr and 5 mins to prepare
Ingredients
For the mash
1kg Maris Piper potatoes, peeled and quartered
25g butter
50ml milk
10g flat leaf parsley, chopped
For the filling
A drizzle of olive oil
1 onion, diced
1 leek, sliced
50ml white wine (optional)
400ml fish stock
2x250g Ramus fish mix
200g raw king prawns
For the sauce
50g butter
50g plain flour
200ml whipping cream
1 tbsp Dijon mustard
5g flat leaf parsley, chopped
Salt and pepper
Instructions
METHOD
1 Place the potatoes into a pan of salted cold water. Bring to the boil and cook for 15 minutes. Drain, set to one side.
2 To make the filling, heat a drizzle of olive oil in a saucepan, add the onion and leeks and sauté for 5 minutes. Add the white wine and cook for 1 minute.
3 Add the fish stock, bring to a simmer and add the fish mix and prawns. Simmer for 3 minutes.
4 Remove the fish and prawns from the poaching stock. Reserve the stock to make the sauce and set the fish and prawns to one side.
5 For the sauce, melt the butter over a low heat add the flour, stir to combine. Cook until it starts to bubble.
6 Slowly add the reserved poaching stock to the pan a little at a time allowing the stock to warm in the pan before whisking into the mix, this will help prevent lumps. Add the cream and bring the sauce to the boil.
7 Remove from the heat, add the mustard and parsley. Season to taste. Add the reserved fish to the sauce and spoon into an oven proof dish.
8 Pre-heat the oven to 180°C (fan) / 200°C / 400°F / gas mark 6. For the topping, mash the cooked potatoes, add the butter, milk and parsley and mix well. Season to taste then spoon over the prepared filling.
9 Cook for 30 minutes or until the top is golden brown.