Salmon en Papillote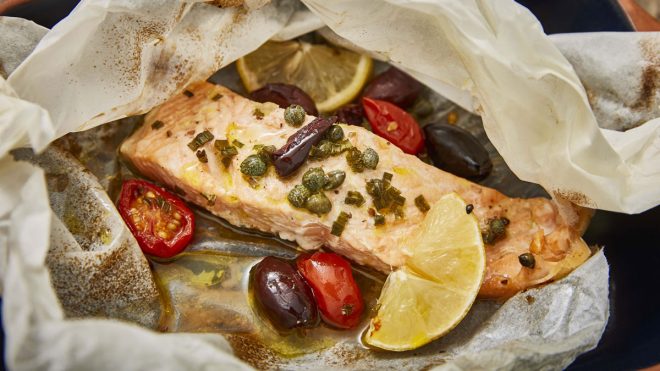 4 servings
30 minutes to prepare
Ingredients
Greaseproof paper
4 salmon fillets
100g olives
60g capers
2 tomatoes, chopped
150ml dry white wine
2tbsp olive oil
1 lemon, cut into slices
Instructions
Mediterranean style salmon parcels full of flavour, serve still in the paper for a little bit of theatre at the dining table as each guest unwraps their meal.
Preheat the oven to 180°c / 350°f / gas mark 4. Cut four 45cm long pieces of greaseproof paper. Fold each in half then cut out a half-circle. Open flat and place into a shallow baking dish (just in case any liquid leaks from your parcels), this will make the parcel for the fish.
Pat the salmon fillets with kitchen paper to ensure they're quite dry. Season both sides with salt and black pepper.
Place a fish fillet onto each greaseproof paper circle, to one side rather than in the middle so you've space to fold over the paper and create a parcel. Top each fillet with equal amounts of tomatoes, olives and capers, then drizzle each with 1tbsp olive oil and 2tbsp of white wine. Finish each fillet with a lemon slice.
Fold the greaseproof paper over the fish and seal the edge by folding the edge over itself, not too tightly as the parcel needs space to expand, as it will puff up with steam during cooking.
Bake for 15-18 minutes or until the fish is cooked. Transfer to a plate and with scissors, cut into the top of the packet, careful to avoid the steam that will be released, then serve with your favourite veg or salad.
Chef's tip
This is a lovely technique to cook any of your favourite fish fillets, just adjust flavours and cooking time accordingly.