Crab & Watercress Quiche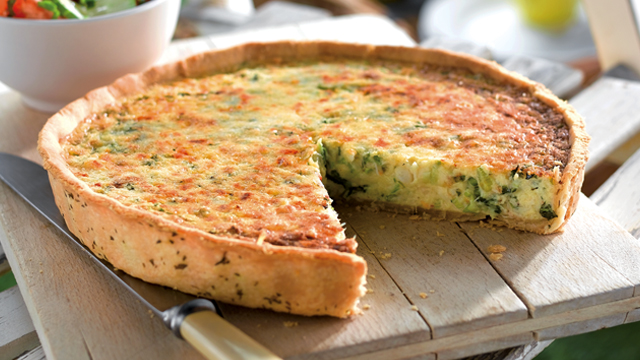 5 servings
70 minutes to prepare
Ingredients
1 packet of ready-made short crust pastry
1tsp thyme leaves
100g watercress, large stalks removed, roughly chopped
5 spring onions, finely chopped
10g butter
300g white crab meat (either fresh or tinned but if using tinned remove the water)
100g Parmesan cheese, grated
284ml whipping cream
3 medium eggs
¼tsp cayenne pepper
Instructions
Pre-heat the oven to 200°c /gas mark 5.
Roll out the pastry to about the thickness of a pound coin, sprinkle over the thyme leaves and press into the pastry with the rolling pin. Then line the flan dish with the pastry leaving a small overhang and pop into the fridge for 30 minutes.
Cut a large circle of the greaseproof paper and place over the pastry, fill with baking beans or rice and blind bake for 15 minutes, then cool.
Remove the baking beans or rice and greaseproof paper and glaze the pastry with a little egg wash. Pop the pastry back into the oven for 5 minutes then cool.
To make the filling, gently fry the spring onions in the butter until soft then add the watercress, cook until just wilted and remove from the heat. In a large mixing bowl, whisk the eggs, cream, Parmesan cheese and cayenne pepper. Fold in the crab, watercress mixture and season with salt and milled pepper.
Fill the tart case with the crab mixture and bake for 25 minutes. Let the quiche cool before serving. The quiche will be just as tasty cold the following day.