Asparagus & Hot Smoked Salmon Risotto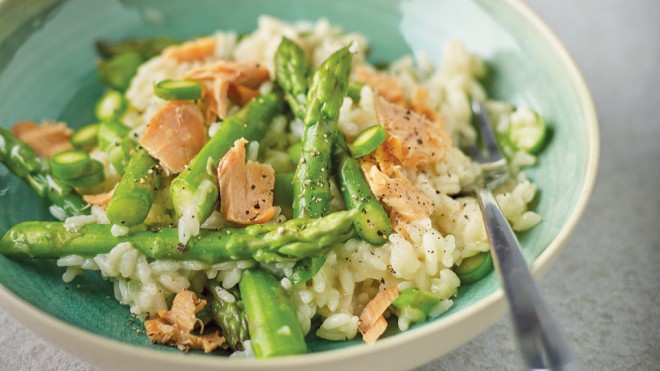 4 servings
35 Minutes to prepare
Ingredients
Knob butter
2tbsp olive oil
1 onion, finely chopped
1 clove garlic, finely chopped
300g risotto rice
300ml white wine
1ltr hot chicken stock
400g bunch asparagus, prepared and steamed
50g pecorino cheese, finely grated
100g mascarpone
150g hot smoked salmon, broken into flakes
3tbsp flat leaf parsley, finely chopped
Instructions
1 Wash the asparagus and using your hands bend and snap off the woody end, then trim with a knife to neaten off. Steam until they feel tender when pierced with a sharp knife, between 3-8 minutes, depending on the thickness of your asparagus. Chop the ends of the asparagus into rounds, reserving the tips.
2 Heat the butter and the olive oil in a saucepan and add the onions and cook for a few minutes until beginning to soften. Add the garlic and cook for a minute longer.
3 Stir in the rice and toss well with the onions. Turn up the heat and add the wine, allow to bubble rapidly until the wine has been completely absorbed by the rice – about 2 minutes.
4 Gradually add the hot stock to the pan a ladleful at a time, allowing each ladleful to be absorbed by the rice before adding the next one. Keep doing this until all the liquid has been added and absorbed – will take about 20 – 25 minutes.
5 Stir through the asparagus rounds, mascarpone and pecorino then season to taste. Allow to sit covered, for a few minutes.
6 Finally, stir through the asparagus tips and the flaked smoked salmon and serve sprinkled with the parsley.