Caribbean Fish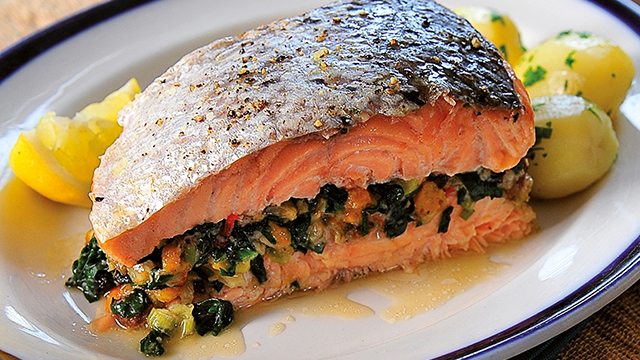 7 servings
80 minutes to prepare
Ingredients
Main ingredients
1 whole salmon (about 2.5kg), cleaned and gutted
1½tbsp olive oil
For the stuffing
50g raisins
50g dried mango
1½tbsp olive oil
50g butter
1 onion, finely chopped
2.5cm fresh root ginger, peeled and finely chopped
1 red chilli, deseeded and finely sliced
6 spring onions, chopped
3 garlic cloves, finely chopped leaves from 3 thyme sprigs
1 piece of preserved stem ginger in syrup, finely chopped
½tsp ground cinnamon
25g chopped almonds
500g spinach, washed and thick stalks removed
75g fresh white breadcrumbs
Salt and black pepper finely grated zest of 1 lime, plus the juice of ½ lime
Instructions
Put the raisins and mango in a small bowl and cover with just-boiled water from the kettle. Leave to soak for 30 minutes, then drain.
Preheat the oven to180°C, 350°F, gas mark 4.
To make the stuffing heat the oil and half the butter in a large frying pan and sauté the onion over a medium heat until soft and pale gold. Add the fresh ginger, chilli, spring onions and garlic and cook for another 2 minutes. Add the thyme, preserved ginger and cinnamon and cook for a further couple of minutes. Put the mixture into a bowl and add the soaked fruit and almonds.
Put the spinach into a large pan with the water that is left clinging to the leaves after washing. Cover and set over a low heat. Cook for 4 minutes, or until wilted, turning the leaves over halfway through. Leave until cool enough to handle, squeeze the excess water out with your hands and roughly chop. Add the spinach to the rest of the stuffing along with the breadcrumbs, season well and add the lime zest and juice. Cut the remaining butter into small dice and add to the stuffing, mix the ingredients together with your hands.
Place the salmon on a large roasting tin or baking sheet lined with foil. You may need to curl it to fit. Rub inside and out with the oil and seasoning. Pack all the stuffing inside and season the top of the fish. Pull the foil up around the salmon so that it is enclosed in a kind of tent (don't wrap it closely round its body) then scrunch the foil together to make a sealed package.
Place in the oven (it may be a squeeze; don't worry if the fish overhangs the roasting tin or baking sheet, just make sure it doesn't touch the sides of the oven) and cook for 45 minutes, pulling the foil back so the fish can colour on top after 30 minutes. Now check the fish: the eye should be completely white and the flesh near the bone at the thickest part no longer look glassy. If it isn't fully cooked, return to the oven and cook for another 4 minutes before checking again. Serve with new potatoes, rocket salad and lime wedges, if to taste.