Mussels En Croustade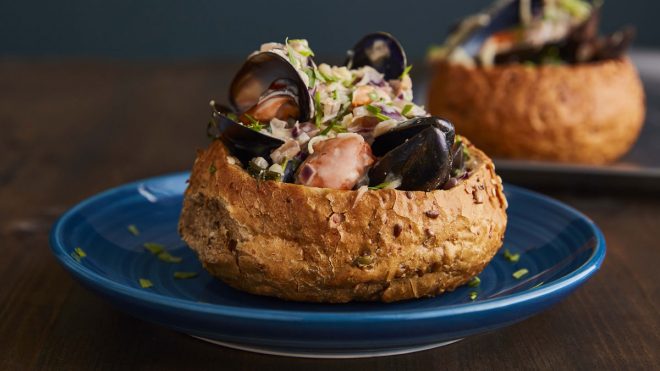 Ingredients
1 bunch tarragon, chopped
6 large banana shallots, finely chopped
4tbsp double cream
900g mussels
4 large crusty bread rolls
200g Parmesan, grated
50ml dry white wine
100g butter
1tsp beurre manie - 1/2tsp four mixed with 1/2tsp butter, used to thicken the sauce
Instructions
A gorgeous way to enjoy mussels in an edible bowl! Mussels are tasty, nutritious and low in sodium and saturated fat.
Method
Preheat the oven to 200°C / 400°f /gas mark 6.
Take a thin slice off the top of each bread roll and set aside.
Scoop out the bread from each roll with a teaspoon, leaving a wall about 5mm thick.
Melt 30g of the butter and brush the lids and the inside of each roll.
Put on a baking sheet and bake for 5-7 minutes until crisp and golden. Keep warm.
Put the mussels in a large pan with the wine. Cover and cook over a high heat for 4 minutes or so, shaking the pan now and then, until they have opened and the meats have just set.
Tip into a colander over a bowl to collect the liquor. Cover the mussels and set aside.
Strain the liquid through muslin to remove the grit.
Melt another 25g of the butter in a medium-sized pan over a medium heat. Add the shallots, cover and cook for 4-5 minutes until soft. Add the mussel liquor, bring to the boil and cook until it has reduced by half.
Stir in the remaining 75g butter, the cream and the beurre manié.
Simmer for 1 minute until slightly thickened.
Stir the mussels and tarragon into the sauce. Season.
Spoon the mix into the baked rolls, sprinkle over the Parmesan and return to the oven for a few minutes until it melts. Scatter over some tarragon, add the lids and serve.
Chefs tip
If you don't want to fiddle with the mussel shells when you're eating, feel free to remove the meat from the shells when you strain them from the liquor.