Scallops, Air-Dried Ham and Wild Mushrooms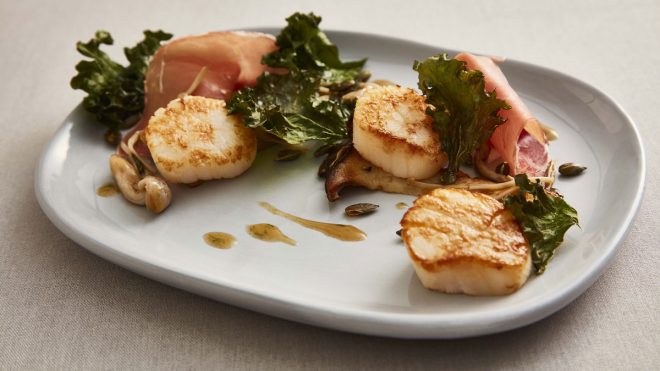 4 servings
20 minutes to prepare
Ingredients
12 scallops
1 pack kale
300ml chicken stock
4 slices air-dried ham
1 pack exotic or wild mushrooms
Sea Salt & carcked black pepper
Olive oil
Butter
Instructions
It would be shellfish of us not to share this beautifully sophisticated scallops starter recipe with you!
Method
Preheat the oven to 180oC fan/200oC/gas 6. Spread the kale over a baking tray, drizzle with a little olive oil and season with sea salt. Place in the oven/grill until the edges of the kale start to darken. Remove from oven and put to one side.
Prep the mushrooms so they are ready for cooking, slicing the larger ones. Toast the pumpkin seeds in a hot pan until slightly browned.
Place the chicken stock on the hob and reduce by half (TRUEfoods stocks are perfect for this). Pan-fry the mushrooms in oil and a knob of butter over a medium heat so they get a little colour. Add the chicken stock and bring to a simmer. Add another knob of butter to the simmering stock in order to emulsify the butter and stock into a sauce consistency. Check the seasoning and remove from the heat.
Season the scallops with salt and a tiny bit of pepper. On a medium-high heat pan-fry scallops for 2-3 minutes on the flattest side with a little oil until nicely browned. Turn the scallops and reduce the heat to low, add a knob of butter and a squeeze of lemon juice. Serve with air-dried ham, kale, mushrooms and sauce.