Crusty Ham & Potato Hash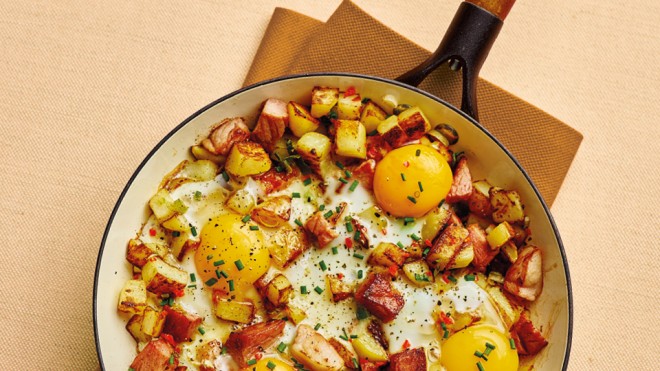 4 servings
Cook 25 mins, 20 mins to prepare
Ingredients
2tbsp olive oil
700g potatoes, cut into 1.5cm cubes
6 spring onions, finely chopped
300g leftover ham or gammon, cut into cubes
2 cloves garlic, finely chopped
1 chilli, finely chopped
4 large eggs
2tbsp chopped fresh chives
Instructions
1 Heat the oil in a large heavy based frying pan, add the potatoes and cook gently for 20 minutes tossing every now and then until golden and crusty.
2 Add the spring onions and ham and continue to cook until the ham is golden and the onions softened.
3 Add the garlic and chilli and cook for 1 minute, tossing everything together well. Crack the eggs on top, reduce the heat and cook gently on the hob until the whites are cooked through. Serve sprinkled with fresh chopped chives.
LOVE YOUR LEFTOVERS
If you are going to store leftover roast to make this recipe, cool it as quickly as possible (ideally within 90 minutes) cover it and place into the fridge. Always use your leftovers within two days of storage. Ensure you cook this recipe until it's steaming hot throughout and importantly, never reheat leftovers more than once.