Kids Picnic Sharing Board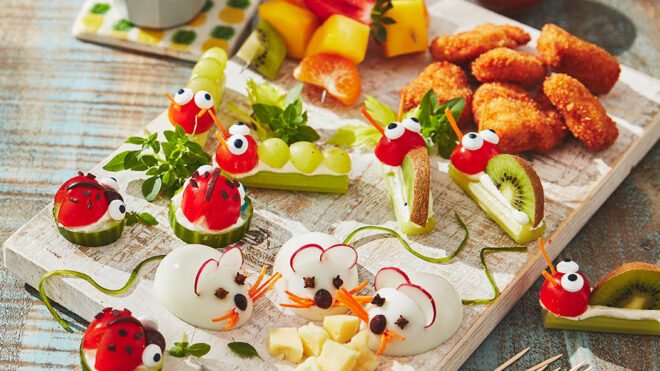 6 servings
60 minutes to prepare
Ingredients
Summer Fruit Skewers:
4 strawberries
1 small orange cut into pieces
1/4 mango cut into 4 pieces
1 kiwi cut into pieces
8 large blueberries
4 blackberries
Air Fryer Chicken Nuggets:
8 chicken breast mini fillets
25g flour
1 egg, beaten
25g Panko breadcrumbs
Mini Cucumber Ladybirds:
15g cream cheese
4 slices of cucumber
2 cherry tomatoes
2 black olives
Black edible food colouring gel
Boiled Egg Mice:
4 medium eggs
1/4 cucumber
1 carrot
"Snails and Caterpillars":
4 celery sticks
50g cream cheese
4 cherry tomatoes
1 carrot
Candy eyes
2 slices of kiwi
8 small green grapes
Instructions
Method:
Summer Fruit Skewers
1. Wash and peel and prep your fruit and thread onto skewers to form colourful fruit kebabs.
Air Fryer Chicken Nuggets
1. Coat the chicken pieces, one at a time, in the flour, then the beaten egg and finally the breadcrumbs.
2. Cook in the air fryer at 200°c for 7-8 minutes and serve with mayo or ketchup.
Mini Cucumber Ladybirds
1. Spread the cream cheese onto the slices of cucumber.
2. Cut the cherry tomatoes in half and then place each one flat side down and cut a groove out of each one and place onto the cucumber to form the main body of the lady bird.
3. Place a small cut piece of black olive next to the tomato and dot the tomato with food colouring to make the black dots of the ladybirds.
4. Please look at the images for inspiration.
Boiled Egg Mice
1. Hard boil the eggs in boiling water for 8 minutes then cool in cold running water for 5 minutes.
2. Peel and keep to one side.
3. Cut some thin strips of the cucumber, no bigger than the size of matchsticks and cut each one in half. These will be the whiskers.
4. Cut the carrot into thin matchstick strips.
5. To assemble the mice, take a small slice off each egg and cut each slice into two. These will be the ears
6. Now place the egg flat side down and make a slit on top to place the ears in.
7. With a cocktail stick, carefully make a small hole for the nose and place a piece of carrot.
8. Do the same for the eyes and then at each side of the nose place some cucumber whiskers using the same technique with the cocktail stick.
9. Now use a long strip of cucumber for the tail.
10. Please use the image as inspiration.
"Snails and Caterpillars"
1. Cut the celery into 5-6cm lengths and fill with cream cheese.
2. Place a small cherry tomato at the edge of each piece of celery to form the head and with a cocktail stick place a few pieces of finely cut carrot to form antenna and stick on some candy eyes.
3. For the caterpillars, finish with 3 green grapes on each piece of celery.
4. For the snails, place a slice of kiwi on each piece of celery behind the head to form the shell.
5. Please see the image for inspiration.
6. Use lettuce leaves and herbs as the base to resemble the grassy ground where they live.