Super Easy Herb Marinated Lamb Chops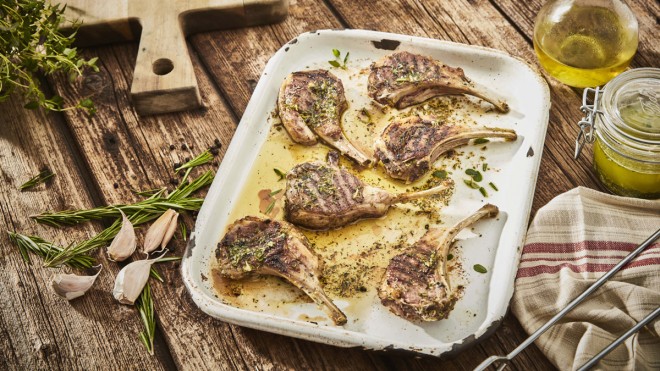 6 servings
10 minutes plis marinating time to prepare
Ingredients
200ml extra virgin olive oil
4 cloves garlic
5 sprigs rosemary, leaves only
Small bunch thyme, stirpped of any woody stems
12 small lamb chops
Instructions
This is one of the simplest yet most flavourful ways to enjoy a lamb chop or two.
Method:
Blend all ingredients except the chops, then pour over the lamb in a shallow tray. Turn the chops to evenly cover them, then refrigerate for 2 to 24 hours before grilling to taste.
Chefs Tip
To oven cook them, seal either side in a pan on a high heat for 3 minutes or so each side. Preheat the oven to 180ºC/350ºF/gas mark 4 and bake for 10 minutes for medium rare chops. Please note cooking times may vary based on size of the chops.