Butterflied Leg of Lamb with Anchovy, Garlic & Rosemary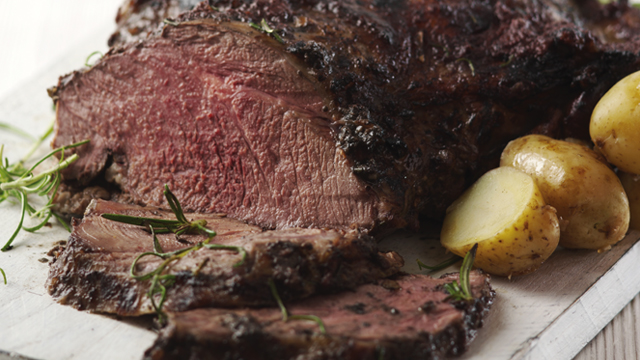 Ingredients
1 New season lamb leg, ask the butcher to butterfly it for you
50g tin of anchovy fillets, drained
3tbsp olive oil
5tbsp balsamic vinegar
5 garlic cloves, crushed
1tbsp rosemary leaves, chopped
30 black olives
2tbsp olive oil
750g jersey royal potatoes
Instructions
Open out the butterflied lamb leg, making sure it looks to have an even thickness. Tip the anchovy fillets out of the oil and chop finely, place into a bowl with the olive oil, garlic, rosemary and balsamic vinegar. Brush this marinade all over the lamb and pop covered into the fridge overnight. At this stage blend the olives with 2tbsp of olive oil and leave in the fridge until needed.
The following day, Pre-heat your oven to 180*c / gas 4.
Place the lamb into a roasting tray, add the jersey royal's, cover with foil and cook for 1 hour. Meanwhile light your barbecue and when the coals are grey you are ready to cook on it.
After an hour remove the lamb to a plate and then pop onto your hot barbecue and cook for 15 minutes. Keep the potatoes warm.  Turn the lamb over, brush the top with the blended olives and continue cooking for a further 15 minutes, not turning over. Transfer to plate to rest for 10 minutes. Carve and serve with the jersey royal's, juices from the tray and your favourite summer vegetables.