Lamb, Mint and Feta Wraps with Kale Crisps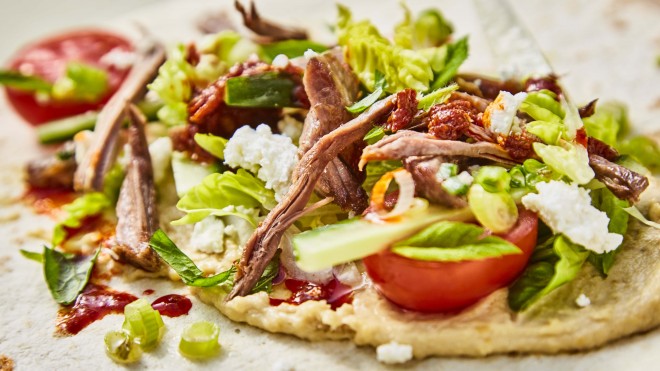 2 servings
30 minutes to prepare
Ingredients
1tbsp olive oil
2 spring onions, finely chopped
300g diced lamb (or leftovers* from Sunday's roast)
1/2 lemon, juice only
2tbsp fresh mint
100g feta cheese, crumbled
2 flat breads or tortilla wraps
1/2 cucumber, cut into sticks
2 little gem lettuce, cut into thin wedges
150g cherry tomatoes, halved
2tsp harissa paste
Pack of kale
1tbsp rapeseed oil
Instructions
1 Let's begin with the kale chips. Heat the oven to 150oC/300oF/ gas mark 2, make sure your kale is washed, let it dry then massage in the rapeseed oil. Next, simply pop it onto a tray and into the oven for 8-12 minutes. Remove from the oven, leave to cool, then season to your taste.
2 Whilst they kale is in the oven, heat the olive oil in a large frying pan.  If you're using leftover roast lamb* skip this step. Season the lamb then fry on a medium heat for 10 minutes, turning occasionally until the meat is nicely browned. Remove from the pan and
set aside.
3 Add the spring onions and cook for a further few minutes until beginning to soften. Add the lamb back into the pan squeeze over the lemon juice and keep on the heat for 2 a further minutes. Remove from the pan and place into a bowl with the mint and feta, toss together and season to taste.
4 Place the flat bread or wrap onto a board and arrange the cucumber, lettuce and cherry tomatoes in the middle, then top with the warm lamb and feta. Spoon over a little harissa paste, roll up and serve.
CHEF'S TIP Before placing your kale crisps in the oven, why not experiment and add a little spice to the rapeseed oil? We like adding a little paprika or cayenne pepper.
LOVE YOUR LEFTOVERS
*If you are going to store leftover roast to make this recipe, cool it as quickly as possible (ideally within 90 minutes) cover it and place into the fridge. Always use your leftovers within two days of storage. Ensure you cook this recipe until it's steaming hot throughout and importantly, never reheat leftovers more than once.