New Season Lamb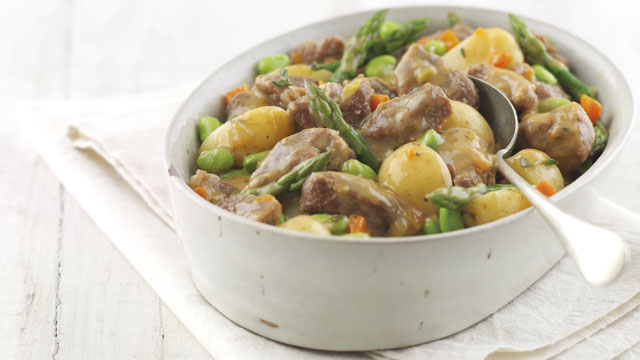 6 servings
110 minutes to prepare
Ingredients
1.5kg lamb shoulder (or middle neck)
2 tbsp plain flour
1 large onion, finely chopped
2 garlic cloves, finely chopped
200ml white wine
2 celery stalks, finely chopped
1 large carrot, peeled and finely chopped
1 tsp thyme
2 bay leaves
1 strip of lemon zest
250g Jersey Royals, cut in half
150g broad beans
1 bunch of asparagus, cut into 3cm pieces
600ml vegetable stock
salt and milled pepper to taste
2 tbsp sunflower oil
FOR THE GREMOLATA
1 strip of lemon zest
1 garlic clove
15 mint leaves
Small handful of fresh parsley, chives or oregano
Instructions
Preparation time 20 minutes
Cooking time 90 minutes
Remove any excess fat from the lamb and cut into 2cm pieces. Season with salt and milled pepper and then toss in the plain flour.
Heat a large casserole pot (suitable for use on the hob) and fry the lamb until lightly browned all over in 1 tbsp of sunflower oil. Do this in two batches and remove to a plate.
In the same pot add the other 1 tbsp of sunflower oil and gently cook the finely chopped onion, celery and carrot for 5 minutes before adding the garlic, thyme, bay leaves and lemon strip, continue cooking for a further minute. Now add the lamb back to the pot with the white wine, cook for 2 minutes then pour in the vegetable stock, season with salt and milled pepper, pop a lid on and simmer for about an hour, stirring every so often.
Meanwhile make the gremolata by simply chopping all the ingredients very finely and spoon into a small serving bowl.
After an hour, add the Jersey Royals and broad beans to the lamb and cook for a further 10 minutes. Check the seasoning and adjust if necessary, add the asparagus and cook for 2–3 minutes before serving. The asparagus should still have a crunch to it. Spoon over a little gremolata and serve with some crusty bread.