Asparagus With Jersey Royals & Wild Garlic Salad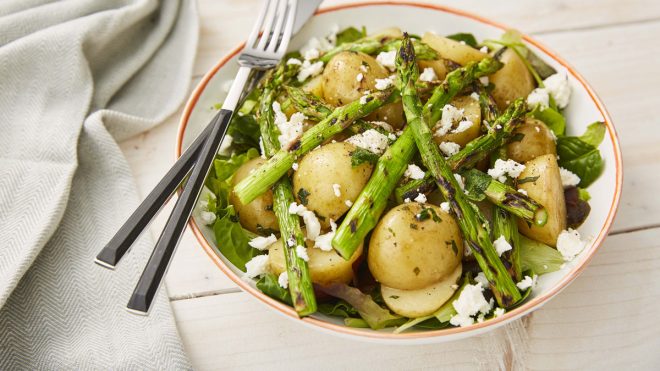 4 servings
35 mins to prepare
Ingredients
For the salad
12 asparagus spears, trimmed
250g Jersey Royal potatoes
1 vegetable stock cube
2 sprigs of mint
1 bulb of wild garlic (or new season)
100g feta cheese
1 packet of watercress, washed with large stalks removed
Booths Italian extra virgin olive oil
For the dressing
15g Booths butter
2tbsp Booths Italian extra virgin olive oil
1tbsp balsamic vinegar
1tsp chopped chives
1tsp chopped mint
Instructions
This gorgeous Spring salad showcases some of the best seasonal produce on offer at this time of year, asparagus and Jersey Royal new potatoes.
Pre-heat the oven to 200°c/gas mark 5, and pop your griddle pan on to heat.
Wrap the garlic in tin foil with a glug of olive oil and cook in the oven for 20 minutes.
Bring a medium saucepan of water to the boil, add the asparagus and cook for 30 seconds, reserving the water – keep in the medium saucepan you've just used. Refresh the asparagus under cold water.
Drizzle the asparagus with olive oil and pop into the griddle pan until nicely charred turning every so often (about five minutes).
Whilst the asparagus is griddling, add the stock cube, mint and potatoes to the reserved asparagus water and simmer until tender, then drain and keep warm.
Arrange the watercress over four plates, halve the potatoes and divide between the plates, top with asparagus, and roasted garlic, crumble over feta cheese.
For the dressing, heat the butter and olive oil in a small saucepan, mix in the chives, mint and vinegar then drizzle the warm dressing over your salad.