Roasted Hasselback Potatoes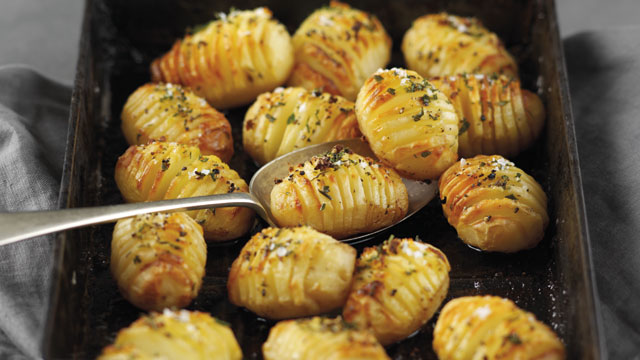 6 servings
55 minutes to prepare
Ingredients
30 New potatoes
25g butter, melted
1 tbsp olive oil
1 tsp rosemary, finely chopped
3 garlic cloves, finely chopped
Maldon sea salt and milled pepper
Instructions
Preparation time 15 minutes
Cooking time 40 minutes
Pre-heat your oven to 200°c, gas mark 6. 
You have a choice of peeling the potatoes or leaving the skins on. 
Place one of the potatoes into a large spoon or between two chopsticks lying side by side. Make little cuts every 5mm cut only ¾ of the way through the potato. By placing the potato into the spoon or between two chopsticks will help in making sure you don't cut all the way through the potato. Repeat this for all the potatoes. 
Mix the butter and olive oil together and brush the base of a roasting tray with half of the butter and oil mix. Now place the potatoes cut side up in the tray then brush the remaining oil and butter mixture over the potatoes. Season with a little Maldon sea salt, fresh milled pepper and a scattering of rosemary. Roast for 25-30 minutes before adding the garlic and roast for a further 5-10 minutes and serve.