Easy Bombay Potatoes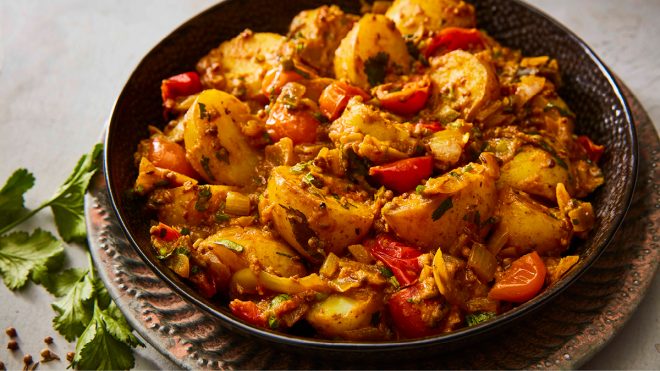 4 servings
15 mins to prepare
Ingredients
400g Jersey Royals
2 tbsp olive oil
1 tsp mustard seeds
1 tsp coriander seeds, crushed
1 tsp turmeric
1 tsp curry leaves
1 tsp crushed cumin seeds
1 green chilli, chopped
50g fresh ginger
2 cloves of garlic, crushed
2 shallots, sliced
1/2 pack cherry tomatoes (about 8), halved
100ml water
1 tsp garam masala
1 small bunch coriander, chopped
Salt and pepper
Instructions
METHOD:
Wash and cut the Jersey Royals in half. Bring to the boil in salted water and for 10 minutes until tender.
Heat up the oil and add the mustard seeds, coriander seeds, turmeric, curry leaves, cumin seeds and the green chilli and gently fry.
Add the crushed ginger, garlic and sliced shallot and gently fry for 5 minutes until soft.
Add the cherry tomatoes, blanched potatoes and water and continue to cook for 10 minutes.
Add the garam masala and chopped coriander then season to taste with salt and pepper.
CHEF'S TIP:
Serve these warm as a perfect side dish with BBQ spicy lamb chops and toasted flat breads
or add shredded chicken for a great one pot meal.