Slow Cooker Beef Rendang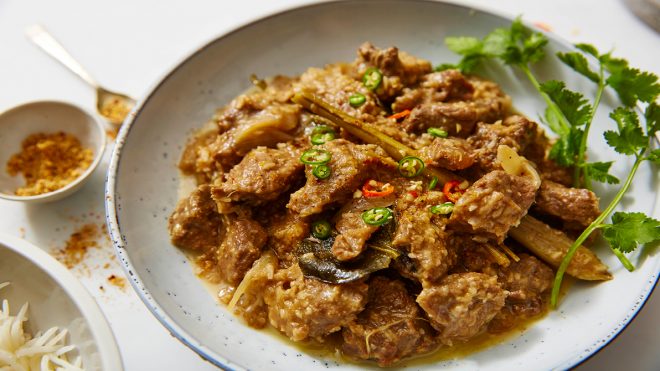 4 servings
4-6 Hours to prepare
Ingredients
For the Spice Mix
4 shallots or 1 red onion
50g lemongrass paste
5 cloves of garlic
25g fresh ginger
2 tsp chilli flakes
100ml water
For the Rendang
500g diced chuck beef
100ml coconut oil
1 star anise
4 cardamom pods
1 stick of cinnamon approx, 2cm in length
1 tin of coconut milk (440ml)
1 tbsp sugar
25g tamarind paste
10 small shallots halved or three red onions cut into chunks
2 tbsp soy sauce
3 kaffir lime leaves
1 small handful coriander, chopped
2 tbsp of desicated cocnut, toasted
4 chillies, sliced
Instructions
METHOD
Add all the spice mix ingredients into a blender to form a paste.
Fry the beef on a high heat in the coconut oil, then add the spice mix paste.
Add the star anise, cardamom pods, cinnamon and lemongrass paste.
Then add the coconut milk, sugar, tamarind paste and the halved shallots or chunky red onions.
Simmer on medium for 4-6 hours in the slow cooker, then add the soy sauce and kaffir lime leaves.
Add the chopped coriander, toasted coconut and sliced chillies.
Season to taste and serve with rice.
CHEF'S TIP Try swapping out the beef for diced chicken or pork.