Upside Down Puff Pastries with Nduja, Apple and Beetroot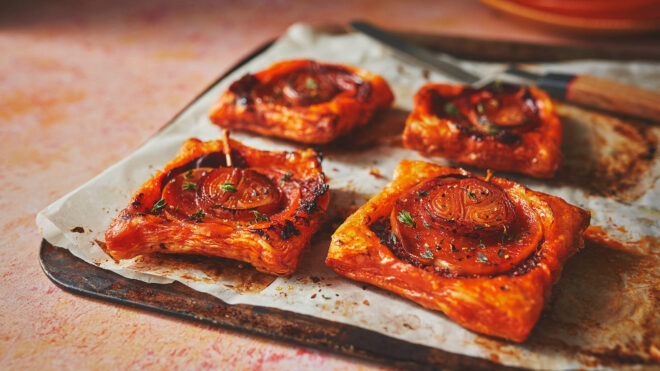 4 servings
25 minutes to prepare
Ingredients
25ml honey
25ml balsamic vinegar
1 shallot, sliced
75g cooked beetroot, sliced
1 apple, sliced
100g nduja, from the deli counter
1 large sprig thyme, leaves only
1 sheet puff pastry
Instructions
Method:
1. Pre heat the oven to 200°c /180°c Fan /392°F/Gas Mark 6.
2. Place a sheet of parchment onto a baking tray.
3. Squeeze a little honey onto the tray in 4 different areas.
4. Top with some balsamic vinegar, and a few slices of shallot.
5. Add some thinly sliced beetroot and then a slice of apple.
6. Finally add some Nduja and then cut 4 squares of puff pastry large enough to cover the Nduja and apple, and place on top.
7. Bake in the oven for 15-20 mins until the pastry is crispy.
8. Turn the slices over and serve warm.
Chef's Tip:
Make this dish veggie by swapping out the Nduja for houmous or olive tapenade.