Apple & Cranberry Charlottes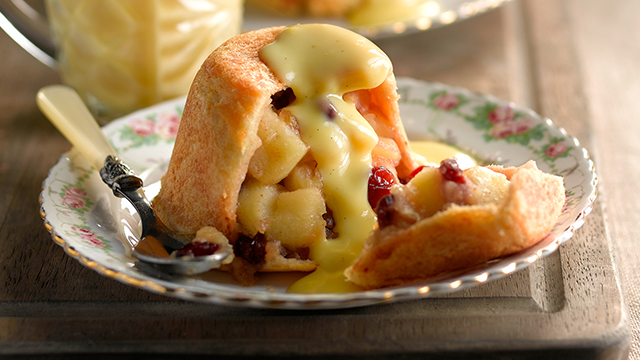 4 servings
50 minutes to prepare
Ingredients
500g Bramley apples
400g eating apples
1-2tbsp caster sugar
150g unsalted butter
1tsp cinnamon
7-8 slices of day old bread, crusts removed
100g dried cranberries
Instructions
Lightly butter 4 ramekins and pre-heat the oven to 200°c / gas 6.
Peel and core the apples then chop into large chunks. Take a large frying pan and add 25g of the butter, along with the apples and caster sugar. Cook until the apples start to break down and
are soft enough to beat to a puree. The eating apples should be a little firmer and hold their shape. Add the cinnamon and leave the apple mixture to cool.
Tip – The apple mixture can be prepared in advance, once cooled cover with cling film and store in the refrigerator.
Melt the remaining butter over a low heat. Cut 4 disks from the bread to fit into the base of each ramekin and cut the remaining slices of bread into rectangles. Brush each piece of bread with
the melted butter on both sides making sure not to leave any unbuttered. Pop the bread disks in the ramekin first then line the sides with the bread overlapping so the filling doesn't seep out
and leave an overhang of the bread.
Add a few cranberries to each ramekin then add a spoonful of the apple mixture, then more cranberries and more apples. Fold over the overhanging pieces of bread to seal in the filling. Place a small disk of greaseproof paper over each pudding and weigh down by placing a heavy tray on top. Pop the puddings into the oven for about 20 minutes with the tray weighing down. Remove
the tray and greaseproof paper and bake for a fur ther 10 minutes. Leave to cool slightly before turning out and serving with custard, ice cream or cream.