The Boho Baker's Apple and Pumpkin Spice Cheese Pie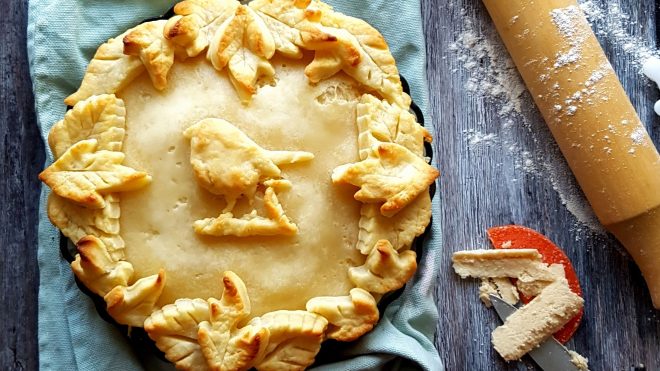 6 servings
20-25 mnutes to cook, 20 minutes to prepare
Ingredients
For the Pastry
200g plain flour
110g butter
3tbsp iced water
Pinch salt
For the Filling
1kg English cooking apples
170g Ford Farm Pumpkin Spice Wensleydale, or ordinary Wensleydale
50g sultanas
2tbsp maple syrup
1 egg, whisked for glazing
Instructions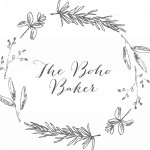 The Boho Baker describes herself as "Baker. Writer. Forager. Wanderer. Organic ingredient and edible floral Enthusiast. Member of the Guild of Food Writers." Very local to our HQ in Preston, she's kindly agreed to do a series of recipes for us, celebrating the best of our local produce. Follow her on instagram @thebohobaker.
Celebrate Great British Apples Day by whipping up a delicious pie for dessert tonight! Whilst the Pumpkin Spice Wensleydale may sound like an unusual choice, the soft creamy notes of the cheese and the subtle Autumn spices create a filling that is more reminiscent of cheesecake than traditional apple pie. If you can't get hold of pumpkin spice, you can use ordinary Wensleydale instead.
Method:
Start by making the pastry: chop the butter into cubes and add to a bowl with the flour and pinch of salt. Rub together with your fingers until the mixture resembles fine breadcrumbs. Try to only use your fingertips as the heat from your hands can cause the pastry to become sticky. Add the iced water, a little of a time, and mix using a knife until well combined. Wrap the pastry in cling film and place in the fridge whilst you prepare the apples.
Peel the apples and chop into cubes. Place in a pan with the sultanas, and add enough water just to cover the top of the fruit. Gently heat until the apples have softened, remove from the hob, and drain the water from the pan. Ideally, you want the cubes of apple to retain their shape and not go too mushy, but they are still perfectly useable if they do go too soft. Add the maple syrup and Wensleydale, giving it a good stir with a wooden spoon. Set the filling aside and preheat the oven to 400F/200C/Gas mark 6.
Roll out half of your pastry to the thickness of a £1 coin and use it to line an 8"/20cm pastry dish. Add the filling, then brush the edges of the pie with beaten egg before rolling out some more pastry and covering the top. Use your excess pastry to create a decorative design.
Brush the top of the pie with the rest of the beaten egg to provide a crispy, golden glaze. Bake in the oven f0r 20-25 minutes, or until golden brown. Serve warm with a jug of hot custard.
Hints/Tips/Troubleshooting:
If you're struggling to think of a design, you can always use silicone moulds to create the shapes and characters you want. If you do use one, it helps to place the mould in the freezer for five minutes before removing the pastry to help it retain its shape.
If you're not a fan of pumpkin spice then you can use any other crumbly cheese in its place.