Bramley Apple & Raisin Crumble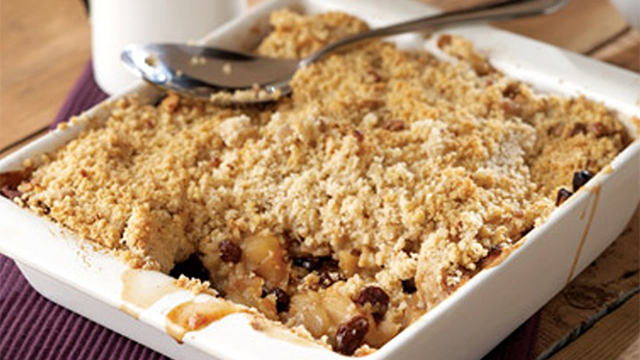 6 servings
85 minutes to prepare
Ingredients
For the filling
1kg bramley apples
60g soft light brown sugar
½tsp cinnamon
75g raisins (optional)
10g softened butter
For the topping
50g walnuts, finely chopped
125g plain white flour
100g unsalted butter, cubed and chilled
50g demerara sugar
You will need a 10" ovenproof dish
Instructions
Preheat the oven to 190°c / gas mark 5.
Peel and core the apples and slice thickly then pop into the dish.
Mix the sugar with the cinnamon and sprinkle over the apples, scatter over the raisins (if required) and combine thoroughly. Drizzle over 4tbsp of water and cover loosely with buttered foil and bake for 30 minutes, turning the apples halfway through making sure not to break the apples up, then cool.
To make the topping, rub the butter into the flour using your finger tips until it resembles large breadcrumbs. Add the sugar and walnuts
Spoon the crumble over the apples and bake for 30 minutes until the crumble has browned and the juices are starting to bubble through.
Serve with custard or clotted cream.