Chocolate Toffee Apples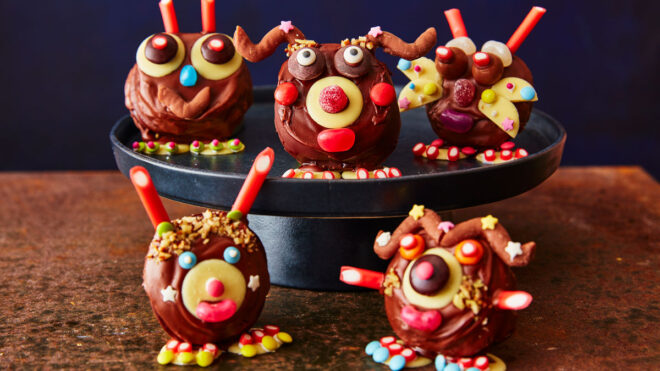 8 servings
10 mins to prepare
Ingredients
4 apples sliced 1cm thick (4 good slices per apple)
200g melted chocolate
1 jar of salted caramel
Edible sprinkles
50g pecans or pistachios, chopped
Edible glue
Edible eyes
Selection of sweets
Instructions
METHOD
Slice the apples to about 1 cm in thickness, you can slice the bottom flat so they stand up if you choose. Sandwich two apple slices together with a spoonful of salted caramel, and freeze for 5 minutes.
Melt the chocolate in a bowl over a pan of simmering water.
Coat the apple sandwiches in chocolate and place in the fridge for 10 minutes.
Decorate with sweets and nuts using the edible glue or the leftover melted chocolate to make faces. You can be as outrageous as your imagination allows!
Chef's tip: When the chocolate has melted, add a few more squares of chocolate. This is an easy way to temper chocolate therefore keeping your chocolate glossy. Children love decorating these and letting their imaginations run wild!