Mini Cranberry and White Chocolate Muffins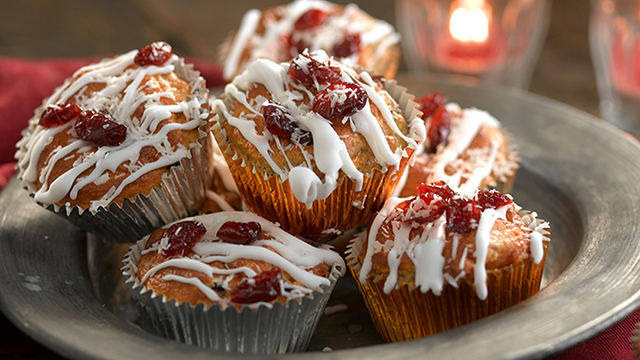 7 servings
30 minutes to prepare
Ingredients
100g plain flour
2tsp baking powder
50g demerara sugar
100g dried cranberries
100g white chocolate, finely chopped
1 medium egg
150ml milk
50g butter, melted and cooled
1tsp mixed spice
Decoration
1 tub of Dr oetker royal icing
keep a few cranberries back for the muffins
Instructions
Pre-heat the oven to 190*c / gas 5.
Line a muffin tin with muffin cases.
In a large bowl sift in the flour and baking powder. Gently stir in the demerara sugar, mixed spice, cranberries and white chocolate.
In a jug whisk together the butter, milk and egg. Make a well in the centre of the flour and pour in the milky mixture mixing together for about 10 seconds, until you have a lumpy batter.
Divide between the cases and bake for 20 minutes until well risen. Once cooked transfer the cakes to a wire rack and allow the cakes to cool completely before decorating.
To decorate heat a little of the icing in the microwave for 10 seconds, drizzle over the muffins and top with the reserved cranberries.