The Boho Baker's Cinnamon Churros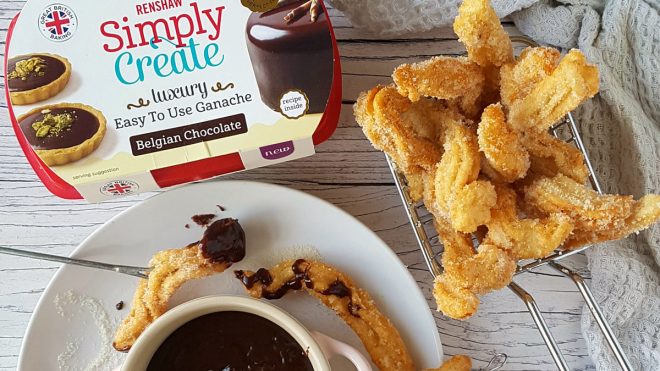 6 servings
20 minutes to prepare
Ingredients
250ml water
125g plain flour
2.5tbsp caster sugar
2tbsp vegetable oil
0.5tsp salt
100g golden caster sugar
1tbsp cinnamon
2ltrs oil (for frying the churros)
1 tub Renshaw's Simply Create Belgian Chocolate Ganache
Instructions
The Boho Baker describes herself as "Baker. Writer. Forager. Wanderer. Organic ingredient and edible floral Enthusiast. Member of the Guild of Food Writers." Very local to our HQ in Preston, she's kindly agreed to do a series of recipes for us, celebrating the best of our local produce. Follow her on instagram @thebohobaker
These cinnamon churros make for a great dessert or sweet treat in the afternoon with a brew.
Method:
Pour the water, 2 1/2 tablespoons caster sugar, salt, and 2 tablespoons vegetable oil into a pan. Heat until the water begins to boil and remove from the hob. Stir in the flour quickly, until the mixture comes together and forms a ball.
Heat the oil in a deep fat fryer or a deep pan until approximately 190C. Fill a piping bag with the dough and carefully pipe long strips into the hot oil. Fry until crisp and golden.
Mix the golden caster sugar and cinnamon together on a large plate or tray. Roll the churros in the sugar mixture until evenly coated.
Heat the Renshaw's Simply Create Belgian Chocolate Ganache in the microwave according to the package instructions. Pour into a ramekin and serve with the churros immediately.