Coconut and Chocolate Truffles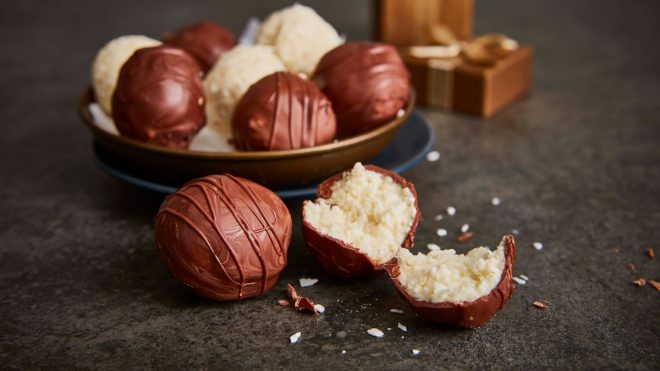 12 servings
10 minutes plus 30 minutes chilling time to prepare
Ingredients
60g unsalted butter
1/2tsp vanilla extract
2 1/2tbsp coconut cream
Pinch sea salt
100g desiccated coconut
Coating
250g chcocolate of your choice
Instructions
These delicious three step coconut and chocolate truffles are reminiscent of a well known chocolate bar and make for a gorgeous homemade foodie gift.
Line a baking tray with greaseproof paper
In a food processor blend all the ingredients except the chocolate. Carefully press and form together small balls with the coconut mixture. Place onto the lined tray and leave in the fridge to set for 30 minutes.
Melt the chocolate and using a tooth pick inserted into the coconut balls, dip and coat the truffles with chocolate and place back onto the lined tray and leave to set.