Chocolate Rainbow Cake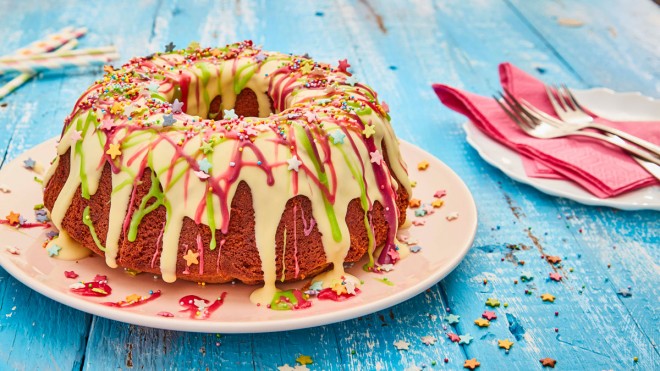 10 servings
1 hour plus cooling time to prepare
Ingredients
100g caster sugar
100g soft brown sugar
200g plain flour
100g unsalted butter, softened
1 baking potato or 50g mashed potato
1.5tsp baking powder
100g Booths dark chocolate, melted and cooled a little
50g ground almonds
1tsp vanilla essence
2 large eggs
100ml milk
For the Rainbow Icing
250g Booths white chocolate melted
Dr Oetker pink food colouring
Dr Oetker purple gel food colouring
Dr Oetker green gel food colouring
Sprinkles and edible glitters of your choice from the home baking aisle
Instructions
Don't be frightened of the mashed potato in this recipe, you can't taste it and it's a classic way to make a wonderfully moist chocolate cake. We chose to use a 9″ bundt cake tin for this recipe, it gives a lovely finish for the icing to drizzle over.
Method:
Preheat the oven to 200°C / 400°f / gas mark 6. Grease a bundt tin very well, we also used strips of grease proof paper to line it.
Peel the potato and chop into chunks and put in a saucepan and cover with water. Place over a medium heat and bring to the boil and simmer until the potatoes are tender (about 15 minutes), drain and then mash until there are no lumps, you'll need 50g or so. You could also use leftover unseasoned mash.
In a mixing bowl place the sugars, butter, flour, baking powder, melted chocolate, mashed potato and ground almonds. If using a mixer/electric whisk, mix on a low speed to start and then to a medium speed for 2-3 minutes until mixture is fluffy. If you're doing it the old fashioned way, whisk gently until combined (so you don't get flour everywhere!) then whisk until fluffy.
Whisk together the eggs and milk, then slowly add to the mixture until well combined. Pour into the greased cake tin, and bake in the pre-heated oven for about 30-40 minutes, or until skewer comes out clean.
Leave to cool for about an hour, if the cake is too hot when you come to ice it, the topping will just run off.
Whilst the cake is cooling, make your icing by melting the chocolate in a heatproof bowl over a pan of simmering water (don't allow the water to touch the bowl).
Use half of the chocolate to drizzle over the cake, then divide the rest into three dishes and colour with the gel food colours. Add as much or as little colouring as you like to create a rainbow.
Drizzle over the cake in a random fashion – be as adventurous as you like. Finish with all of the sprinkles and edible glitter that your heart desires.
Chef's Tip:
This is perfect for children to get involved with (with adult supervision of course) to get as creative as possible and decorate as they like, with different sprinkles and edible glitters that can be found in the homebaking aisle.