Parkin, Peanut and Milk Chocolate Trifle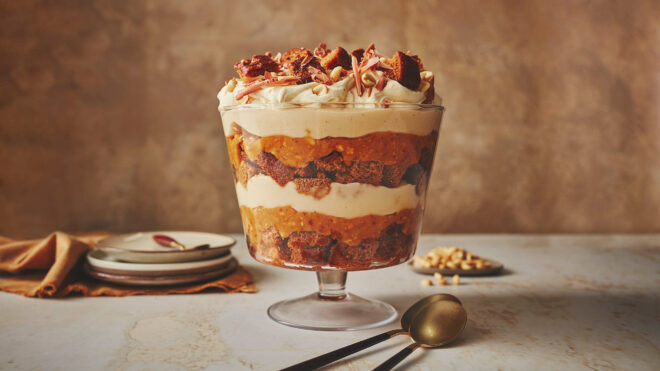 8 servings
60 minutes to prepare
Ingredients
200g crunchy peanut butter
1 salted caramel sauce
1 parkin loaf, diced
50ml coffee liqueur
150g milk chocolate, grated
1x500ml tub vanilla custard
1x450ml tub double cream, whipped
25g peanuts, chopped
Instructions
Method:
1. Mix together the peanut butter and salted caramel sauce until it's combined and smooth.
2. In a large trifle bowl, place half of the diced parkin and drizzle with a little coffee li-queur. Spread with half of the peanut butter and caramel sauce mix.
3. Add 1/3 of grated milk chocolate and then 1/3 of custard.
4. Repeat the layers and then top with whipped cream.
5. Finish with more grated chocolate and garnish with a few chopped peanuts.
Chef's Tip:
This recipe can be made up the day before needed, just top with whipped cream and your garnishes on the day you're going to serve.