Emma Langford's Orange Jaffa Chocolate Drizzle Cake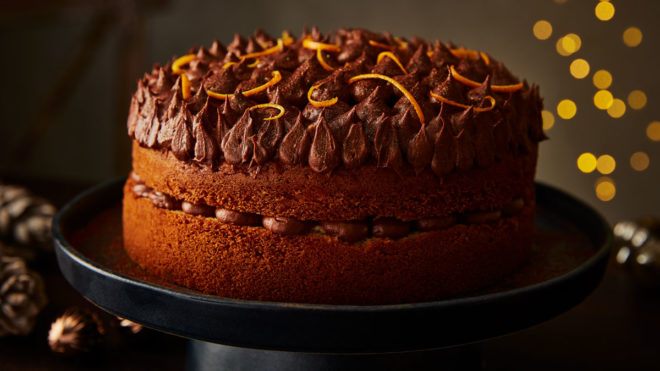 12 servings
1 hour plus cooling time to prepare
Ingredients
For the Sponge
225g golden caster sugar
225g unsalted butter, at room temperature
4 large eggs
2 oranges, zest & juice
225g self raising flour
1.5tsp baking powder
25g cornflour
Orange Sugar Syrup
50g granulated sugar
55ml boiling water
1 orange, juice and zest
For the Buttercream
175g dark chocolate (70% or more)
225g unsalted butter at room temperature
250g icing sugar, sifted
1tsp vanilla extract
1 orange, zest and juice
To Decorate
Orange zest
Edible sparkles or glitter
Instructions
This is the zestiest, most decadent chocolate orange cake from our Poulton store colleague Emma Langford, it's guaranteed to raise a smile over the party table!
For the Sponge
Pre-heat the oven to 180°c / 350°f / gas mark 4. Grease and line a deep, loose bottomed 20cm / 8″ cake tin.
Cream the butter and sugar together until light and fluffy.
Beat in the eggs one at a time, adding a little flour with each if needed (taken from the amount for the recipe).
Stir in the zest and orange juice.
Sieve together the flour, cornflour and baking powder and fold into the mixture with a metal spoon.
Pour into the prepared tin and bake for 25 minutes or so until golden and the cake springs back when gently pressed. If you're unsure, insert a skewer into the cake and if it comes out clean it's done.
Allow to cool in the tin for just a few minutes, then carefully remove, peel off any baking paper and pop onto a wire rack to finish cooling.
While the cake is still warm, pour over the prepared orange syrup and allow to cool completely before decorating.
For the Orange Syrup – prepare while the cake is baking
Put all of the ingredients into a saucepan over a medium heat, stir to combine.
Bring to the boil and cook until the sugar dissolves, stirring occasionally, then remove from the heat.
For the Chocolate Orange Buttercream
Melt the chocolate and set aside to cool a little.
Beat the butter until light and fluffy, then beat in the icing sugar (start off with a spoon so you don't end up in a cloud of sugar!).
Beat in the vanilla extract, orange juice and zest and finally the cooled melted chocolate.
To Assemble
Slice the cold cake in half horizontally.
Use half of the buttercream to sandwich the cake together.
Pipe the rest on top and get zesty – decorate with orange zest, sparkles or anything else that you wish!