Jewelled Edible Christmas Baubles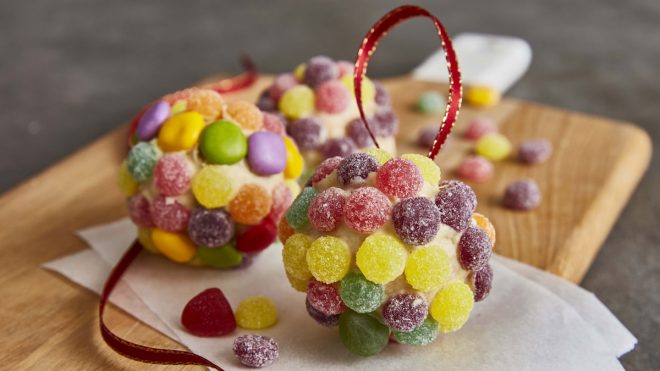 6 servings
30 minutes to prepare
Ingredients
45g butter
300g marshmallows
180g rice krispies
200g white chocolate
1 bag of your favourite sweets
Decorative ribbon, to make hanging loops
Instructions
These 'jewelled' edible bauble decorations are super cute and fun to make with children – as long as they're supervised and you do the tricky parts!
Method:
Gently melt the butter in a large, saucepan over a low heat.
Add the marshmallows and heat gently until they are completely melted, stirring constantly.
Take the pan off the heat and add the cereal, mixing thoroughly. Shape into bauble sized balls and allow to set.
Met the chocolate in a heat proof bowl over a pan of simmering water; do not allow the bowl to touch the water.
Coat the baubles in chocolate, then stick a selection of sweets to the outside to create the jewelled effect. Make a small indent in the top to put the ends of the ribbon in and stick in place with melted chocolate.