Beetroot Brownies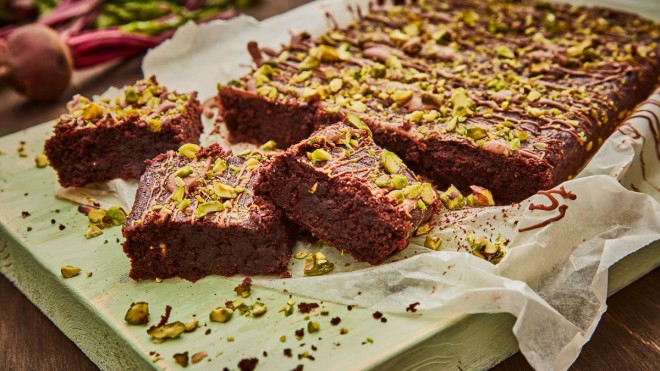 16 servings
1 hour to prepare
Ingredients
For the Brownie
185g Booths dark chocolate
185g butter
200g peeled & grated fresh beetroot
50g ground almonds
100g brown sugar
100g caster sugar
1tsp baking powder
80g plain flour
40g cocoa powder
3 eggs
25ml Monsoon Malabar coffee, cooled
For the Topping
50g Booths milk or dark chocolate, melted
50g chopped pistachios
Instructions
Deliciously moist and indulgent chocolate brownies made with fresh beetroot.
Method:
Preheat oven to 180°c / 350°f / gas mark 4, then and grease and line square cake tin.
Over a pan of simmering water, melt the chocolate and butter together in a bowl – don't let the bowl touch the water.
Whilst the chocolate and butter is melting, whisk the eggs and sugars together in a separate bowl, until thick and glossy.
Sieve the flour, baking powder and cocoa powder into a separate bowl, add the grated beetroot and almonds then stir until combined.
Gradually fold the flour mixture into the eggs (use a metal spoon, wooden ones can cause you to lose air from your carefully whisked eggs), trying to keep in as much air as possible.
Gently fold in the melted chocolate mixture and the coffee until everything is combined.
Pour into the baking tin and cook for 20 minutes – it wants to be a little crisp on top but still soft in the middle.
Once the brownie is cooked and out of the oven, melt the chocolate in a bowl over a pan of simmering water (don't let the bowl touch the water). Whilst the chocolate for the topping is melting, remove the brownie from the tin and place onto a board.
Drizzle the melted chocolate over the warm brownie, then sprinkle the chopped pistachios on top.
Cut into 16 squares and serve either hot with ice cream or cold with a brew.
Chefs Tip:
This stays really moist for at least a week thanks to the beetroot, so is perfect for a make ahead recipe.