Japanese Sushi Salad with Creamy Avocado Wasabi Dressing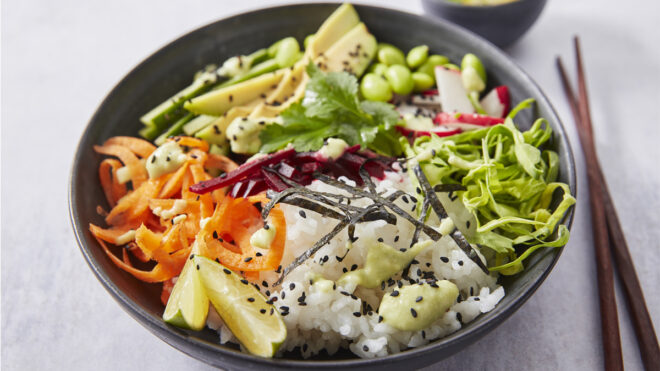 4 servings
15 mins to prepare
Ingredients
For the salad
150g sushi rice
2 carrots, spiralized or cut into matchsticks
8 radishes, sliced
100g edamame beans, cooked
1 cooked beetroot, sliced into matchsticks
1/2 cucumber, thinly sliced
1/4 head sweetheart cabbage, thinly shredded
1 avocado, sliced
For the dressing
1 avocado
1/4 tsp wasabi
2 tbsp coconut yoghurt
1 lime, juice only
To Serve
1 sheet nori seaweed, shredded
4 wedges unwaxed lime
1 tsp nigella seeds
Coriander leaves
Instructions
METHOD
For the Salad
1. Cook the sushi rice as per pack instructions. Set to one side to allow to cool.
2. Arrange the prepared salad ingredients evenly between 4 bowls.
For the Dressing
3. Place the avocado, wasabi and coconut yoghurt in a blender or food processor. Add 5 tablespoons of water. Blitz until smooth and creamy. Season to taste.
4. Drizzle the creamy wasabi dressing over the salad and garnish with shredded nori, wedges of lime, nigella seeds and coriander leaves.
Chef's Tip – this is a great vegan meal bowl. If serving meat eaters why not add cooked salmon or slices of beef steak? For a quick alternative add smoked salmon.