Lamb, Root Vegetable and Ale Soup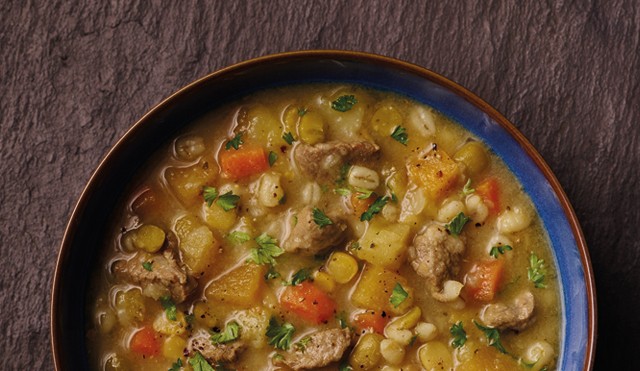 6 servings
Cook 75 minutes, 20 minutes to prepare
Ingredients
2tbsp olive oil
500g lamb neck fillet, cut into 1.5cm pieces
1 large onion, chopped
1 stick celery, chopped
2 sprigs fresh thyme, chopped
330ml bottle of ale
600ml vegetable stock
200g dried soup mix
2 potatoes, peeled and diced
2 carrots, diced
150g swede, diced
150g celeriac, diced
3tbsp double cream
3tbsp flat leaf parsley, finely chopped
Instructions
1 Heat the oil in a large saucepan and add the lamb and cook for a few minutes until starting to brown. Stir in the onion, celery and fresh thyme and cook for a further 3 – 4 minutes.
2 Add the ale and simmer for a few minutes, then reduce the temperature and add the stock. Simmer for 20 minutes.
3 Add the dried soup mix and cook for a further 20 minutes.
4 Add the potatoes, carrots, swede and celeriac. Simmer for about 30 minutes, until the vegetables and lamb are very tender.
5 Stir in the cream and parsley, heat through for a few minutes then serve in warmed bowls with a little ground black pepper.