Thai Sweet Potato and Noodle Soup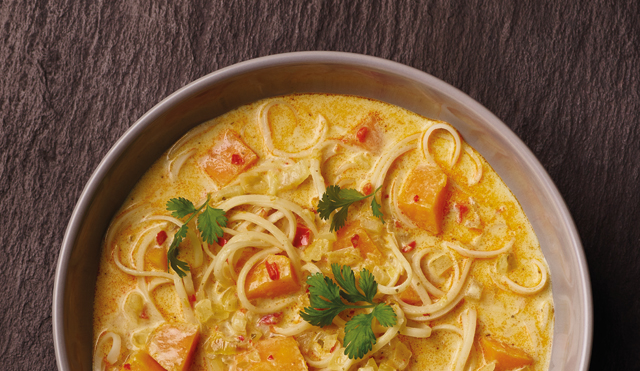 4 servings
Cook 25 minutes, 5 minutes to prepare
Ingredients
1tbsp sunflower oil
2 shallots, finely chopped
1 sweet potato, cut into 1.5cm cubes
2tbsp thai red curry paste
165ml can coconut milk
1 stock cube
3 nest or 190g dried fine egg noodles
To Serve
Fresh coriander
Instructions
For a limited time you can purchase all the ingredients needed for this thai sweet potato and noodle soup recipe (except for the oil) in one handy grab-and-go bag from your local Booths, for only £4.50.
1 Heat the oil in a saucepan and cook the shallots for 3 – 4 minutes until softened. Add the sweet potato and toss together.
2 Stir in the curry paste then add the coconut milk. Dissolve the stock cube in 700ml of boiling water, add to the pan and leave to simmer for 15 – 20 minutes.
3 In the meantime, place the noodles into a bowl of boiling water and leave to soak for 5 minutes.
4 Once the potato is tender, drain the noodles, add to the pan stirring well. Squeeze the juice of 1/2 fresh lime and stir into the soup. Serve with a sprinkle of fresh coriander.