The Boho Baker's Marble Mirror Cake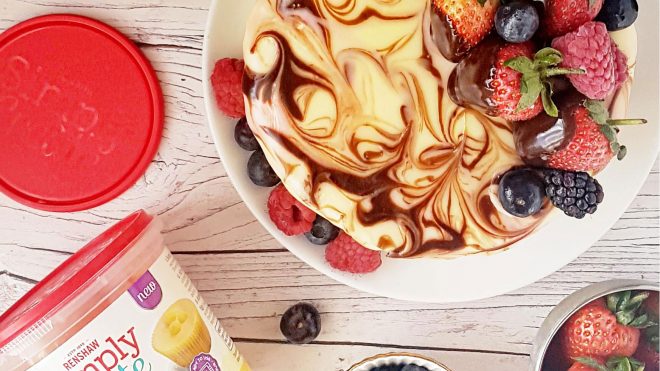 Ingredients
1 tub Renshaw's Simply Create pour over vanilla icing
1 tub Renshaw's Simply Create chocolate pour over icing
1 cake
1 tub buttercream
1 punnet strawberries
Assorted fresh berries
Dash of pink pink food colouring
Instructions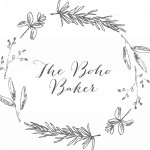 The Boho Baker describes herself as "Baker. Writer. Forager. Wanderer. Organic ingredient and edible floral Enthusiast. Member of the Guild of Food Writers." Very local to our HQ in Preston, she's kindly agreed to do a series of recipes for us, celebrating the best of our local produce. Follow her on instagram @thebohobaker
Beautifully summery, this marble mirror cake is very impressive, but super easy to make as it's a simple construction creation – no baking needed unless you really want to. Perfect for those last minute guests!
Method:
Ice your cake with a layer of buttercream and place into the fridge for half an hour to ensure that the coating is fully set.
Place one third of the Vanilla Pour Over Icing into a small, microwavable dish, and stir in a little of the pink food colouring.
Place the chocolate, vanilla, and tinted Pour Over Icing in the microwave and heat for 30 seconds. Give each tub a quick stir before heating for another 15 seconds.
Place your cake on a wire rack over a plate or tray. Pour all of the vanilla icing over the cake, letting it run down the sides. Take a spoonful of the pink tinted icing and drizzle over the top of the cake in a zigzag motion. Repeat with the chocolate icing.
Using either a skewer or the tip of a knife, gently swirl the icing in small, circular motions, creating a marble effect. The smaller the circle, the more intricate the marble will be.
Dip some of the strawberries in the chocolate Pour Over Icing and place on top of the cake. Add various other berries to your liking to finish. Keep your cake in the refrigerator and enjoy within 24 hours.