White Chocolate Easter Eggs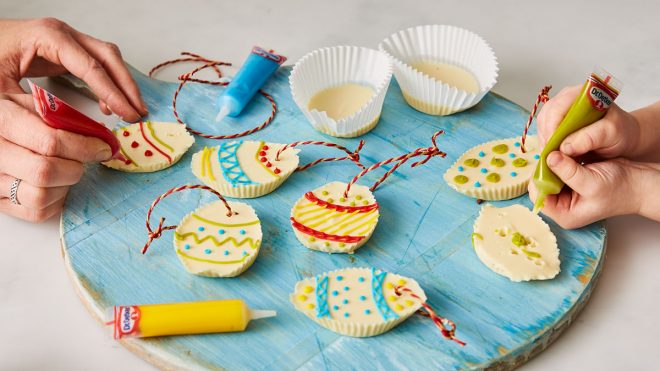 10 servings
30 minutes to prepare
Ingredients
300g white chocolate
2tbsp vegetable oil
Dr Oetker designer writing pen set
10 cupcake cases
Decorative string (optional)
Instructions
These chocolate treats are great fun to make with kids over the Easter holidays, and super easy to do.
Method
Place the white chocolate into a glass bowl and place over a pan of simmering water to melt, don't allow the water to touch the bowl.
Place the cupcake cases onto a baking tray. Pinch the opposite sides of each cupcake case and pull to shape the case into an oval, which will form the mould for each white chocolate egg.
Add the vegetable oil to the melted chocolate and mix.
Divide the melted chocolate mix between the cupcake case ovals. Place in the fridge for 20 minutes or until set.
Once set, peel away the cupcake cases and if you wish to make them into hanging decorations, make a hole 1cm from the top of each egg using a skewer. Thread each egg with a loop of string and tie.
Use the writing icing pens to decorate the eggs with Easter designs. Allow the icing to dry.
Hang the white chocolate eggs on a decorative branch to display.
Chef's Tip
Swap the white chocolate for milk or dark chocolate. Add your favourite sprinkles to decorate.