Fruit Flower Fondue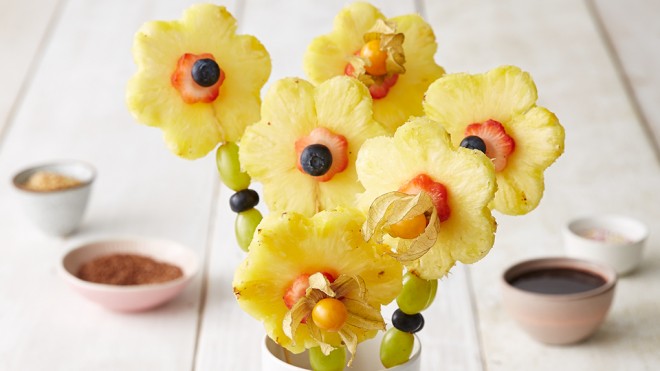 4 servings
25 minutes to prepare
Ingredients
For the Flowers
1 pineapple
2 strawberries
Handful of blueberries
3 physalis
Handful green grapes
Wooden skewers
For the Fondue Sauce
100g chopped milk chocolate
600ml whipping cream
To Dip
Roasted hazelnuts, chopped
Sugar strands
Chocolate vermicelli
Instructions
As with all recipes, if you're making this with children make sure they're supervised by an adult at all times.
Method
Peel and slice the pineapple into 8 slices approximately 1 cm thick. Using a large flower cutter cut 8 flower shapes.
Insert a cocktail stick into each pineapple flower so the point hits the centre of the flower. Decorate the centre of the flowers with a mix of sliced strawberries, blueberries and physalis.
Thread extra blueberries and grapes onto the ends of the cocktail sticks to make a fruity stem.
To make the sauce, place the chopped chocolate and whipping cream into a microwave proof bowl. Microwave on high for 30 second bursts stirring after each 30 seconds until the chocolate has melted. Stir to create a glossy sauce.
To serve, arrange the fruit flowers onto a serving plate, pour the sauce into a small bowl and place the dips into bowls.
Chefs Tip
Don't have any flower cutters? Get an adult to help and use a knife to cut the pineapple into a flower shape, or use any cookie cutters you like to make funky shapes. Use mum's favourite fruits to create a range of colourful fruit flowers.