Fruity Yorkshire Pudding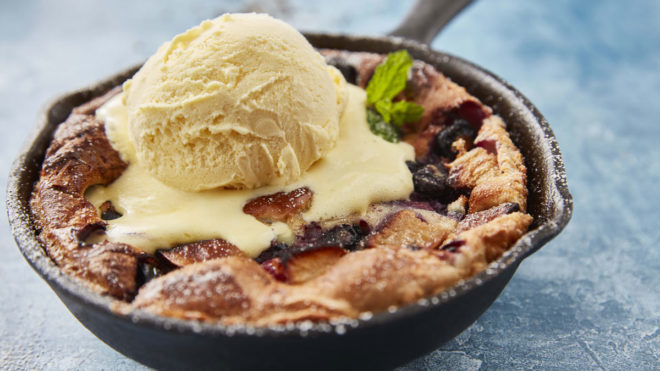 4 servings
40 minutes, plus overnight to chill the batter to prepare
Ingredients
Sunflower oil
For the Batter
100g plain flour
2 eggs
75ml water
200ml milk
1tsp vanilla extract
For the stewed apples
3 red apples, peeled and diced
4tbsp brown sugar
1tsp cinnamon
For the pudding filling
80g blueberries
50g white chocolate chunks
To serve
Vanilla Ice Cream
Fresh mint
Icing sugar
Instructions
A very different way to serve up dessert, why not try this sweet and fruity Yorkshire pudding on British Yorkshire Pudding Day, February 3rd?
Whisk together the flour, eggs, milk, vanilla and water, until smooth and then transfer to a jug. Chill the batter for at least 20 minutes, or overnight if possible. Remove from the fridge ten minutes before using.
When you're ready to cook the pudding, preheat the oven to 220ºC / 428ºF / or gas mark 7.
Peel and dice the apples, add to a saucepan. Add the cinnamon, sugar and a splash of water, place over a medium heat until the apples have softened and they appear caramelised. This should take around 5-8 minutes. Once this stage is complete place to one side and allow to cool.
Pour 4 tbsp of sunflower oil into an 18-20 cm round oven proof dish and set to one side. Pop a baking tray into the oven to heat up for about 10 minutes, this is to place the dish onto.
Place the oven proof dish into the oven on the preheated baking tray and heat for around 8-10 minutes.
While the dish is heating, mix the apples, blueberries and white chocolate chips into the batter mixture in the jug.
Remove the hot tray and baking dish carefully from the oven, then pour half the batter mixture into the dish. Put back into the oven for 16 minutes, or until the pudding is golden brown and risen well. Don't be tempted to open the door before it's ready, as this will cause the pudding to sink.
Remove the pudding from the baking dish, then repeat steps 4, 5 and 7 with the other half of the batter.
Cut each pudding into two slices and pop each onto serving plates, add a scoop of ice cream on top, lightly dust with icing sugar and garnish with a sprig of mint.